London 2012: Rohullah Nikpai's road to the Olympics
Last updated on .From the section World Olympic Dreams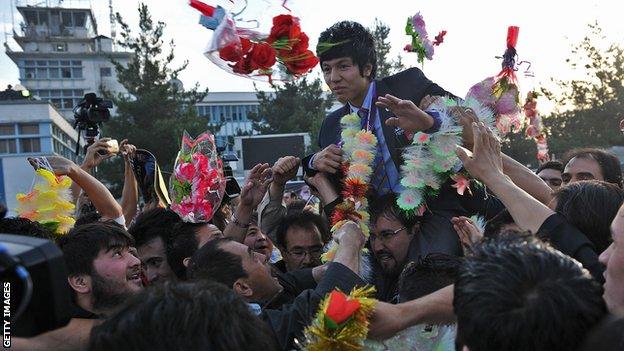 LATEST NEWS - 2012
The taekwondo fighter, who took up the sport in a refugee camp in Iran, now has two Olympic bronze medals - the only two medals ever won by Afghanistan. He defeated Britain's Martin Stamper 5-3 in the bronze medal match of taekwondo's -68kg weight category.
LATEST NEWS - 2011
Wed 30 Nov 11: Afghan taekwondo fighters Rohullah Nikpai and Nesar Ahmad Bahawi are set for London 2012.
Bahawi won gold and Nikpai a bronze at an Olympic qualifying tournament in Bangkok. Afghanistan now have two places for the sport at the London Games - the pair will likely fill them.
Social media sites have been buzzing with reaction from Afghans.
Fahim Behzad writes: "This is a massive achievement and we need to show them our support!! Congratulations to both of them and to the nation as a whole!!"
Maria Uranus says: "Hopefully the Afghan government will appreciate these two champions. Today, they made us proud in the world! Bravo boys and please come back as winners."
Wed 04 May 11:Rohullah Nikpai is in Korea - the home of taekwondo for the World Taekwondo Championships.
In the end, he claimed a bronze medal in the under 68kg category after losing to Iran's Mohammad Bagheri Motamed 12-5 in the semi-final.
LATEST NEWS - 2010
Fri 19 Nov 10:Rohullah Nikpai has been knocked out of the Asian Games, being held in Guangzhou, China.
Rohullah won his first fight in the under 68kg category against Maksim Rafalovich 3-1 but failed to make it to the quarter-final stage when he was beaten 1-0 by Taiwan's Lo Tsung Jui.
Wed 03 Nov 10: World Olympic Dreams has been to meet
In spite of the rudimentary facilities where Afghanistan's taekwondo fighters train, Rohullah believes he can build on his bronze medal from the Beijing Games.
"I like all my medals but now I hope to win gold in London 2012," he says. "I don't think we need to go abroad for training. Our athletes are good and we are getting ready for the next competitions."