Venue profile for London 2012: Basketball Arena
Last updated on .From the section Olympics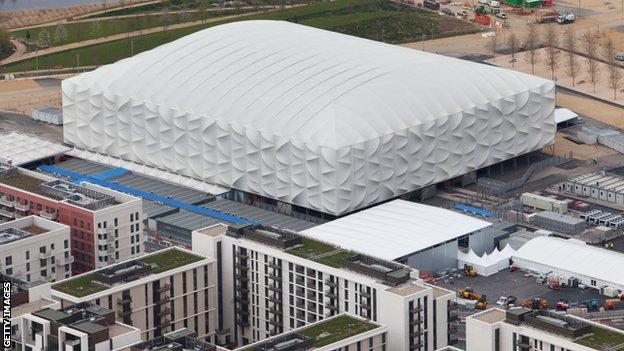 London 2012 contains more temporary venues than the Beijing, Athens and Sydney Games combined - and the Basketball Arena is the largest of the lot.
It has a 12,000 capacity and took just 15 months to build, making it one of the quickest venues to complete.
It is one of the Olympic Park's most visually impressive venues too.
Reminiscent of Beijing's Water Cube, its steel frame is covered in white PVC fabric that will form the canvas for spectacular lighting displays during the Games.
The venue is visually impressive from the inside as well, with its black and orange seats representing the colours of a basketball.
It will also host the handball finals and has been designed to transform from a basketball venue to handball venue in just 22 hours.
Legacy
The Basketball Arena's external structure may be used at the Rio Games in 2016, which would make it the first venue to be recycled for another Olympics.
The 12,000 seats are expected to be used by Silverstone.