London 2012: David Beckham's career - the facts and figures
Last updated on .From the section Olympics
Being the ultimate competitor and loyal servant he is, it is little wonder David Beckham said he was "very disappointed" not to make the Great Britain's men's football squad for the London Olympics.
No matter that he is 37, has not played a competitive international since October 2009 and last played for a top European club in March 2010 when he was injured for AC Milan. The desire to represent his country clearly still burns bright.
Along with Germany's Bastian Schweinsteiger, Beckham jointly holds the record for most assists at World Cups and European Championships. He has set up 11 goals at major tournaments for England.
Nevertheless, his lack of top-level action over the past two years appears to have counted against him.
Team GB manager Stuart Pearce says he wanted to choose the team on merit and the key difference between Beckham and 38-year-old Ryan Giggs - who has been selected - is that the Manchester United midfielder is still playing at the top level.
Giggs made 33 appearances last season and has been picked alongside fellow over-age players Liverpool's Craig Bellamy and Manchester City defender Micah Richards.
Beckham could still be selected for a coaching role for Team GB but it means his playing skills and experience, developed over nearly 20 years in the game, have probably been seen on an international stage for the final time.
BECKHAM'S INTERNATIONAL CAREER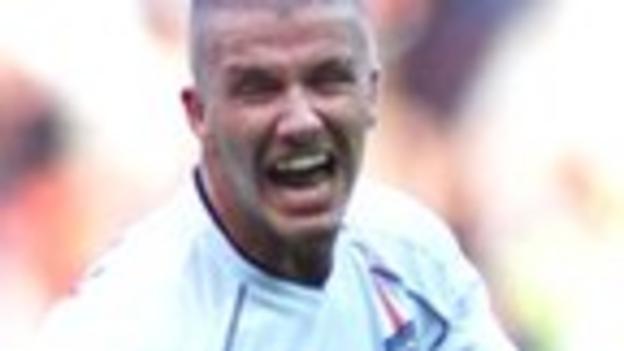 Beckham has earned 115 England caps, the most for an outfield player, and scored 17 goals

Beckham last played for England against Belarus in a 2010 World Cup qualifier on 14 October 2009, coming on as a substitute

He has never officially retired from international football but former boss Fabio Capello said in August 2010 it was unlikely he would be picked

His debut for England was against Moldova in a 1998 World Cup qualifier on 1 September 1996

He was handed the captaincy by caretaker England boss Peter Taylor in 2000 and kept it until after the 2006 World Cup

England never went past the quarter-final stage of the three World Cups and two European Championships Beckham played in

Beckham has 11 assists at World Cup and European Championships, the joint highest total with Germany's Bastian Schweinsteiger

He was sent off twice for England, once famously against Argentina at the 1998 World Cup. He was also dismissed at Old Trafford when England beat Austria 1-0 in 2005

His trademark free-kicks lit up the international stage, most memorably when he scored an injury-time goal against Greece to seal England's spot at the 2002 World Cup
BECKHAM'S CLUB CAREER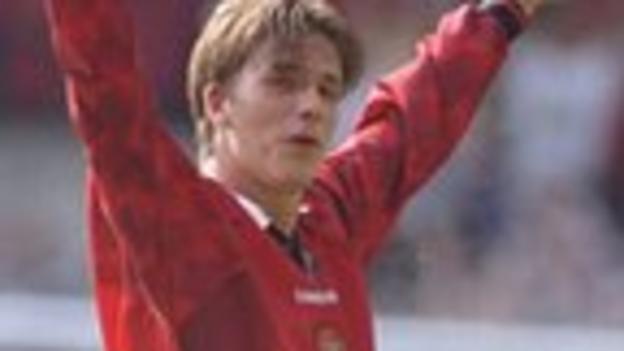 Beckham has won a league championship at all three of the clubs he has played for on a permanent basis, Manchester United, Real Madrid and LA Galaxy

He made his debut in 1992 for Manchester United and won six Premier League titles, the Champions League in 1999 and two FA Cups

One of his most notable goals was against Wimbledon when he lobbed goalkeeper Neil Sullivan from his own half

After moving to Real Madrid in 2003, he won La Liga in his final season before moving to LA Galaxy in 2007

He won the MLS Cup with LA Galaxy in 2011 before signing a two-year extension to his contract in January 2012
REACTION TO BECKHAM'S OMISSION
"Never thought for a second that David Beckham would be excluded from GB's team. Then again Stuart Pearce has always been his own man." - Former England striker Gary Lineker on Twitter
"The Olympics is about winning. You're belittling the Olympic ideal if you choose someone just to put on a spectacle." Former England winger John Barnes
"Why was Beckham on the shortlist in the first place, then not pick him? Disgrace!" - Former Wales midfielder Robbie Savage on Twitter
"Beckham decision purely a football decision, the right one as well." - Former England midfielder and Sunderland manager Peter Reid on Twitter
"David has been an extraordinary supporter, probably our number one supporter, of the games from the very beginning and is keen to continue his enthusiastic support right to the end." - London 2012 chief Lord Coe