Venue profile for London 2012: BMX Track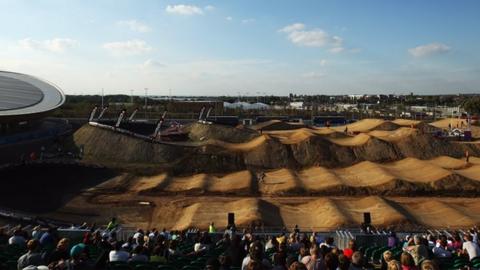 With an eight-metre high ramp at the start and the Velodrome on its doorstep, the BMX Track will provide spectacular images as well as spectacular action.
Designed with the aim of "pushing the boundaries" of the sport, the course features jumps, bumps, tightly banked corners, an innovative underpass in the women's races and a platform jump for the men's event.
It took six months to build and was completed in time to host a UCI World Cup meeting last August.
Britain's Shanaze Reade won the women's event, but expressed concerns that the track was "right on the limit when the wind changes."
After listening to feedback from Reade and other riders, a number of alterations were made, including a reconfiguration of the first straight and some of the jumps.
Legacy
The temporary seating will be removed and the BMX Track will be reconfigured to make it suitable for riders of all ages and abilities.
The BMX Track and Velodrome will be joined by a new road cycle circuit and mountain bike course to create the Lee Valley VeloPark.