Being Olympic favourite is hell, says silver medallist Neil Adams
By Ian Singleton
BBC Sport
Last updated on .From the section Olympics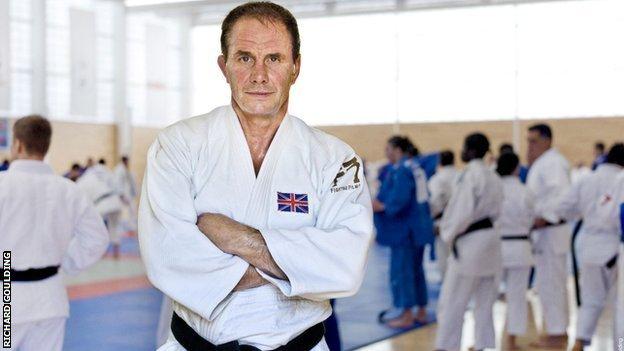 Neil Adams bluntly describes his two Olympic silvers as loser's medals.
Until four years ago, they were in a box at the back of a cupboard. His wife then had them framed for his 50th birthday and they are now up on the wall.
Adams feels proud when he looks at them, but his thoughts quickly turn to 'what ifs'. "I wouldn't change much", he adds. And he wouldn't need to. Gold was within his grasp twice, but slipped away by the narrowest of margins on the judo mat.
"The losses at the Olympic games were the most difficult thing for me to accept," he said. "I didn't win the silver medal. I lost the golds. In my mind they were losses. It has taken more than 30 years to get over."
Mark Cavendish,Jessica Ennis and Mo Farah have never won Olympic gold, but they go into London 2012 as three of Team GB's biggest medal hopes. Adams was in that same position in both the 1980 and 1984 games. However, in a career in which he collected every other judo accolade, things simply went wrong for him at the Olympics.
In Moscow 1980, Adams was just 21 years old and found the media focus and pressure of expectation too much.
Asked about being a favourite, he said: "It is hell, and about how you cope with it in the mind. It can make you afraid to win or lose and there is a difference. I was afraid to lose. Sometimes you freeze. Sometimes it takes you over.
"I am very cautious anyway. If I do something it is tactical and technical, and I probably played it too tactically. Some go in with nothing to lose and that's why the Olympics throws up surprise results."
In his run up to the 1980 final he had won every fight decisively. The final, against Italy's Ezio Gamba in the -71kg weight class, was the only one which went to time. Defeat was delivered by split decision.
"There is no excuse," he said. "You can think about it over a 30-year period and say, 'Well this happened and that happened', but at the end of the day you have to keep your cool, and the ones who keep their cool and work the hardest will be the ones who get the results."
The following year Adams won the world title and he went into Los Angeles 1984 with great expectations once more.
This time, older and wiser, Adams felt better able to cope with the pressure. In each of his matches up to the final, he beat seeds. Unranked West German Frank Wieneke awaited in the final, but a shock was in store.
"Frank was only a youngster coming through and it wasn't really his time, but it was if you get my meaning," Adams said.
"I was leading the match quite comfortably until two thirds of the way through. Then I hesitated on the edge of the area and he caught me, so he won the Olympic title because of that. He took his moment."
Adams has had almost 30 years to consider why he made such an uncharacteristic mistake.
"Training was starting to take its toll," he said. "It is not the physical work but very much the mental side of applying yourself to training and competition day in and day out.
"I think that a lot of athletes and Olympians tell you when you get to that point you are thinking about your rest period afterwards. You are tired.
"The key is not to think about that too early. You have to carry on right to the end. I was physically tired but I would have altered my final stretch in looking back."
Afterwards Adams decided to take an extended break following 16 years of constant international competition. But in the build-up to Seoul 1988 he was persuaded to make a comeback at the age of 29.
"I didn't do the same preparation for the two other Olympic Games," he said. "I had a young son and different responsibilities. You have got to consider whether it was a good thing to enter that competition. Certainly it wasn't with the preparation I had done."
Adams lost in the second round and knew his time has come. He never stepped out in competitive judo action again.
A great career had ended on another Olympic disappointment, but Adams, who now works as a coach and commentator, is not bitter. He is driven by a positive philosophy and prefers to look back on his many successes with pride.
And, for someone from a martial art where respect is very important, he has a warning for those who may also find the Games don't go to plan.
"People remember you the way you carry yourself, which is probably one of the most important things," he said.
"You are a long time finished in any sport. If you have been a bit of an idiot on the way through you have to live with it a long time."