Usain Bolt beaten by Yohan Blake in 200m at Olympic trials
Last updated on .From the section Olympics64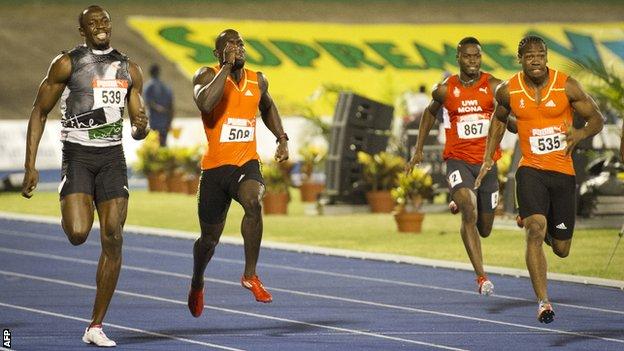 Usain Bolt was beaten by Yohan Blake in the 200m final at the Jamaican Olympic trials - the world record holder's second loss to his rival in 48 hours.
World 100m champion Blake burst past his training partner on the straight for the victory.
"I'll have to figure out what I did wrong and work on it," said Bolt.
The reigning 100m and 200m Olympic champion, who also won 4x100m gold in Beijing, said he was "weak" and must "put in the work" ahead of London 2012.
"I'm the Olympic champion, I have to show the world that I'm the best - so I expect to come back," he said.
"Three more weeks should be enough to get myself back into shape."
Blake, 22, had been quicker in Saturday's 200m semi-finals, running 19.93secs, while Bolt, 25, won his heat in 20.26secs.
They are the fastest two men of all time over the distance and their battles are set to be one of the highlights of the London Games.
"I can never be discouraged," said Bolt, who holds the world record for both the 100m (9.58secs) and 200m (19.19secs). "I'm never worried until my coach gets worried. My coach isn't worried, so I'm OK."
His coach, Glen Mills, said he was confident Bolt would be at his peak again in time for the Olympics, which begin later this month.
"Usain has the experience, the ability, he has been there already," said Mills. "He might be a little off at the moment, but I'm sure when the time of delivery comes around, he'll be on top of his game."
Blake had only words of thanks for Bolt.
"He always gives me a lot of encouragement and tells me to keep coming to this race," said Blake.
"A lot of people gave me encouragement, said 'Yohan Blake, you can do it'. I just wanted to keep performing and keep going."
In the women's 200m, Shelly-Ann Fraser-Pryce won in a personal best of 22.10secs to add to her earlier success in the 100m.
She will be joined in the squad for London by Sherone Simpson and two-time defending Olympic champion Veronica Campbell-Brown.