London 2012: Eriksson would have picked David Beckham
Last updated on .From the section Olympics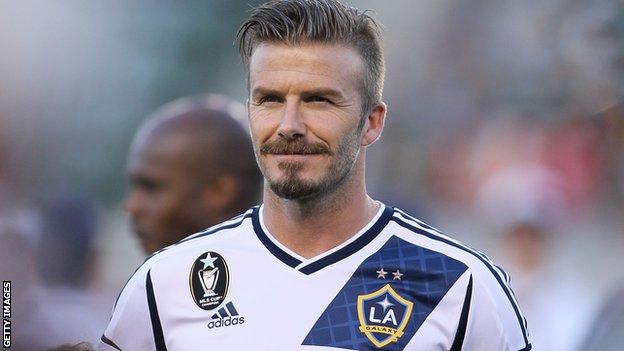 Former England manager Sven-Goran Eriksson is surprised David Beckham has been left out of Team GB at this summer's Olympics.
"I would have picked him, put him on the bench at the very least," said Eriksson.
"He is an icon, he should be involved in the Olympic Games in some way."
Beckham who currently plays in the MLS with LA Galaxy, was watched twice by Team GB boss Stuart Pearce, who is set to name his final squad next week.
"I hope he will be involved in some way in the Olympic Games, it's important," added Eriksson who was speaking to the BBC Radio 5 liveSportsweek.
"It is the Olympic Games, it is Great Britain, it is England, it is London."
Former Manchester United team-mate Ryan Giggs, who is set to feature in the London 2012 football squad, has also admitted he is disappointed that Beckham will not be there with him.
"As a former team-mate and as a friend of David's I am immensely disappointed for him, but he will take it on his chin and carry on with his career. It's just one of those things that wasn't meant to be.
"It's Stuart Pearce's job to pick a team that he thinks can win. That's what he's done - unfortunately David's not in that 18. Like I said, as a friend I wish he was, but I'm sure the lads who are picked will go out and do the best they can."