London 2012: Dwain Chambers 'likely' to win GB sprint place
Last updated on .From the section Olympics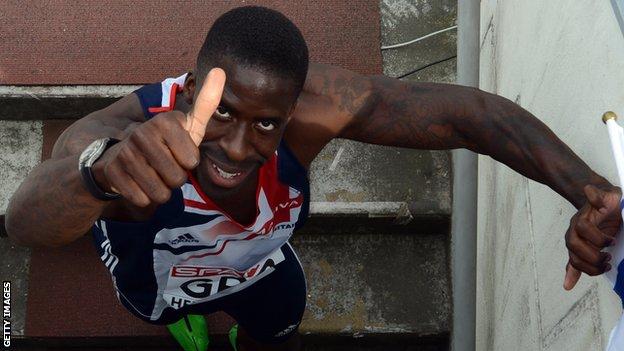 Dwain Chambers is "likely" to be selected in the Team GB Olympic squad for the 100m on Tuesday, UK Athletics coach Charles van Commenee has said.
Chambers can compete after the British Olympic Association policy of lifetime bans for drug cheats was overturned.
He won the Olympic trials on 23 June, but did not run in the 100m at the European Athletics Championships.
Asked if Chambers would be picked for London 2012, Van Commenee told BBC Sport: "It's a likely outcome."
The 34-year-old was given a two-year ban after testing positive for the designer drug THG in 2003.
He won the 100m trial in Birmingham in 10.25 seconds - seven hundredths of a second outside the 'A' qualification time required.
However, he did run 'A' times last summer, which selectors can take into account.
Great Britain has three Olympic places in the men's 100m and Van Commenee, speaking at the end of the European Championships in Helsinki on Sunday, hinted that Chambers had done enough.
He added: "I told him not to compete here because he won the trials.
"And the fourth-best athlete in Britain can't be better than the winner of the trials, so it's common sense.
"You always consider this championship as a preparation for the Olympic Games, so we have to keep our best athletes healthy."
Chambers was part of the men's 4x100m sprint relay team in Finland, but they failed to finish the final after being disqualified.
Christian Malcolm did not exchange the baton with Chambers following the first leg.
That came a day after Britain's women missed out on a place in the Olympics when they were disqualified because Hayley Jones ran outside her lane.
Team GB won two silver medals on the final day of the championships - Jo Pavey taking one in the women's 10,000m and the men's 4x400m relay squad claiming the other.
But Van Commenee admitted that Britain's performance in Helsinki was "flat".
They finished sixth in the medal table after winning seven medals - three gold, three silver and one bronze.
Van Commenee said: "Obviously, we were not here with a strong team. We did that on purpose because the timing with our trials didn't work out for us.
"That's why we decided a year ago that we wouldn't send our best track athletes here.
"And it's proved to be the right decision because the ones who did come out were very flat and almost nobody stepped up. That was confirmation that it was the right thing to do."
Van Commenee suggested that toughest choice facing UK Athletics is which three athletes from five contenders to pick for the women's 800m.
Marilyn Okoro and Emma Jackson have run the 'A' standard this year but finished fifth and seventh at the Olympic trials, won by Scotland's Lynsey Sharp, who also gained a European silver medal.
Jenny Meadows' hopes suffered a setback when she had to pull out of the 800m in Helsinki after aggravating an Achilles injury.
Jemma Simpson did compete in Helsinki, but finished seventh in the final.
"The women's 800m is a very difficult one," Van Commenee said. "There may possibly be some back-up places for the relays to debate too. I can't see many other big issues really."
Asked if he thought Meadows had done enough, he said: "There are a number of athletes who haven't shown much, or nothing at all. So we'll look into it on Monday."
Van Commenee hinted that that one member of the men's relay 4x100m squad disqualified in Helsinki - Malcolm, Chambers, James Ellington and Mark Lewis-Francis - would drop out to make way for Adam Gemili.
He said: "The fastest man of the year, Adam Gemili, is not here, so I think he's got a strong case to be in the relay team. In which position remains to be seen."