London 2012: Michael Phelps targets only seven gold medals
Last updated on .From the section Olympics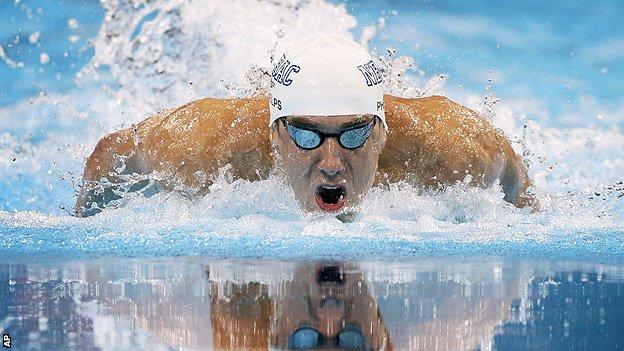 Michael Phelps has opted out of the 200m freestyle at the Olympic Games and will instead chase seven gold medals.
The American is expected to concentrate on two butterfly and two individual medley events as well as three relays.
Phelps, the most successful Olympian ever with 14 golds, swam and won eight events in Beijing in 2008.
He had been expected to target eight golds in London, but coach Bob Bowman said: "No-one should be expected to do that twice. Once was enough."
Phelps won the 200m freestyle in Beijing four years ago but has since been beaten over that distance in the last two World Championships.
His 200m freestyle spot in the US team will go to Ricky Berens, who finished third in the 200m freestyle at the trials behind Phelps and Ryan Lochte.
"It was a fun week but there are still a lot of things that need to be perfected," said Phelps after the trials.
Phelps, 27, has won a total of 38 world and Olympic gold medals in his career but admitted he struggled for motivation after Beijing 2008.
He has also faced increasing competition from Lochte, who will now be favourite for the 200m freestyle after Phelps's withdrawal.
The Phelps and Lochte rivalry is expected to be one of highlights of the Games, which begin later this month.
"Neither one of us wants to lose," said Phelps.
"When we get in the water we race as hard as we can, whether we're playing cat and mouse by the end, we're going all out.
"They're fun, exciting races and Ryan has proved he's been the best over the past couple of years."
Lochte sounded a warning to Phelps after the trials. "I'm used to racing against him, I've been doing it for eight years now," he said.
"In the past four years, I've gone a lot faster and I know what my body can handle. This meet was just stepping stones for what I really want to do in London."
Phelps finished first in the 200m individual medley final and the 200m freestyle final at the trials, while Lochte beat him in the 400m individual medley final and also won the 200m backstroke final.
Missy Franklin, 17, is set to become the first US woman to swim in seven events at the Games after she won the 200m backstroke in 2:06.12.
"I felt really strong. It really hurts so bad at the end but if it doesn't then you're not doing it right," she said. "I can't believe I have seven events. It's so overwhelming but so exciting at the same time."