London 2012: Bolt admits there is work to do after Blake 200m loss
Last updated on .From the section Olympics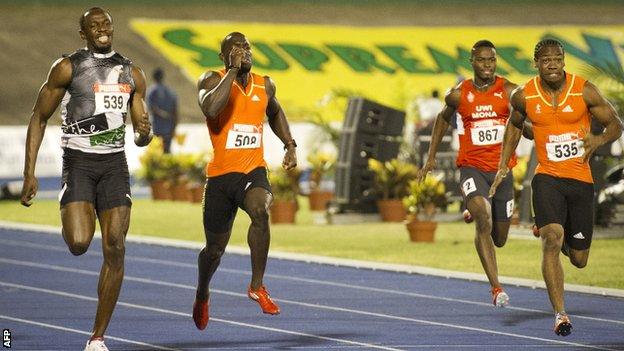 Usain Bolt admits he has work to do after losing to Yohan Blake in the 200m final of the Jamaican Olympic trials.
But the world record holder is determined to prove he is still the best sprinter in the world.
"I'm the Olympic champion, I have to show the world that I'm the best - so I expect to come back," he said.
Bolt finished with a time of 19.83 seconds - a long way behind his world record run of 19.19 seconds achieved at the World Championships 2009 in Berlin.
The 25-year-old admits he is not at his best, although maintains he is relishing the challenge of changing that.
"I think I'm a little bit weak, but three more weeks should be enough to get myself back into shape, so I'm just looking forward to that," said Bolt.
"I'm not far off and, knowing me, I can get it done.
"I've got to put in the work, got to figure out what I did wrong and just work on that."
Bolt, who recently escaped unhurt from a car crash in Jamaica, believes he can improve in time for the defence of his titles at London 2012.
Bolt said: "It's not like I was blown away or anything so I know what I need to do to get it right.
"I can never be discouraged. I'm never worried until my coach gets worried, and he's not worried, so I'm happy.
"It's always good to lose, I always say this. It kind of wakes you up, at least you know what's going on in the world."
Blake's winning time of 19.80 seconds is his quickest this year, and Bolt praised the 22-year-old.
"Everyone is talking about Yohan Blake and he's proving himself as one of the greatest, but I just need to work on what I need to work on and get it done.
"Competition-wise he's very strong mentally. He's very determined and he wants to win."