London 2012: Zoe Smith plays down medal hopes
Last updated on .From the section Olympics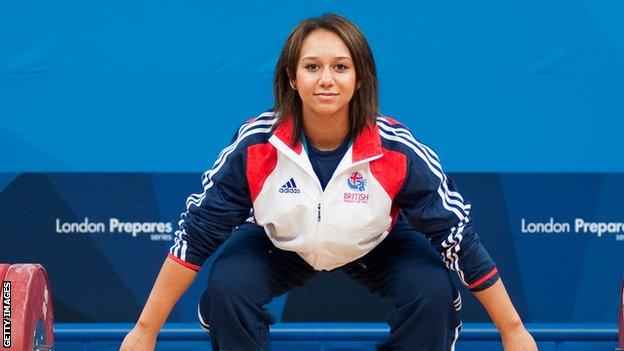 Teenage weightlifter Zoe Smith says she does not expect to win a medal at the London Olympics.
The 18-year-old won bronze at the Commonwealth Games two years ago.
The Greenwich athlete told BBC London 94.9: "2012 is quite soon for me. I'm aiming for at least a top 10 finish, top five at a push.
"A medal might be just that bit too far away. By 2016, I'll have the experience and training behind me to really push for a medal."
Smith, who competes in the 58kg category, added: "Everyone will want me to get a medal, but they can understand that I am very young.
"Obviously I'll do my best no matter what. The good thing is, everyone will support me."
Smith continued her preparations for the Games with victory at the London Youth Games at the weekend and credits the competition as starting her career in the sport.
"The London Youth Games is the whole reason I got into weightlifting," she continued.
"Team Greenwich needed a girl when I was about 12 so I tried it out and it turned out I was pretty good at it.
"I feel I have to represent my borough every year as it's always been important to me.
"Unfortunately this was my last one but I've had a great time and it's been a good run."
Smith, who finished fourth at the European Championships in April, believes she is ready for Olympics.
"There's pressure in every competition but in London it will be huge," she continued.
"I'm quite the competitor and I thrive under pressure so I'm really excited about it. A lot of the time I can make the nerves work for me.
"I'm getting my head around the fact it's happening literally at the end of this month. I'm very nervous but I think I'm just about prepared.
"I'm as ready as I'll ever be."