London 2012: Tim Stockdale ' gutted' to miss Olympics
Last updated on .From the section Olympics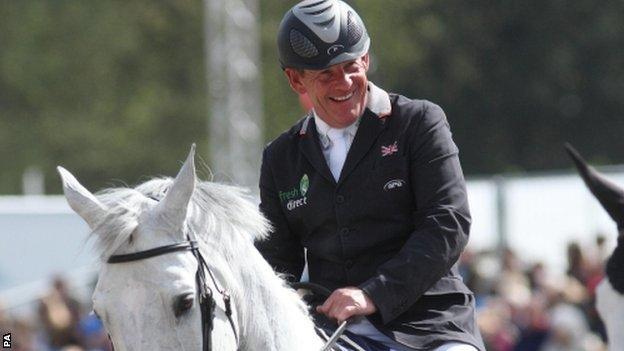 Tim Stockdale is trying to come to terms with his disappointment after narrowly missing out on a place in Britain's Olympic show jumping team.
But he lost out to Scott Brash, Nick Skelton, Ben Maher and Peter Charles.
"I feel gutted but I had a very serious injury and I'm very lucky to be able to ride," he told BBC Radio Northampton.
Stockdale, who rode for Britain at the 2008 Games in Beijing, suffered a triple fracture of his neck after slipping from a young horse he was schooling in Wales last October.
However, he made an amazing recovery from his injuries and was back in the saddle just four months later.
He believes one poor round during a competition in Rotterdam cost him his place in the team for the Games.
"There was a shoot-out between five of us for three places on the team and unfortunately I had a disastrous first round.
"It was all going very well with four jumps left, everything was in order, and then it just went pear-shaped.
"The horse reacted badly to it. He didn't really fight as we'd like in those situations," Stockdale explained.
"When you're in an Olympic Games, there's a lot of pressure and it's down to the horse, as well as the rider, to be able to handle that pressure.
"He's a wonderful horse and shown fantastic form throughout the year, but he had a bit of a blip there and that was enough to convince the manager that he wasn't going to pick me."
After learning of his omission from the team, Stockdale received a number of consolatory messages, but still found it hard to take.
"The problem was that I could taste it, I got right down to the wire," he continued.
"When you do that, you inevitably start to think about getting to the prize, so I'm disappointed that I didn't quite make the last bit," he said.