London 2012: Piggy French to be replaced by Nicola Wilson
Last updated on .From the section Olympics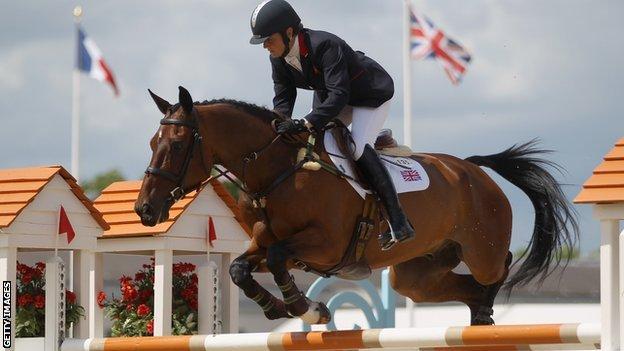 Piggy French has dropped out of the GB Olympic eventing team after an injury to her horse and will be replaced by Nicola Wilson.
French won the Olympic test event at Greenwich Park last summer aboard DHI Topper W, but her mount will not be fit for the London Games.
"What can I say? I am devastated, my dreams are shattered," said French, 31.
Wilson, 35, will now compete on Opposition Buzz having been first reserve for the five-strong team.
Norfolk-born French, who is based in Leicestershire, is ranked 12th in the world and was considered a key member of the British team that also comprises William Fox-Pitt, Mary King, Zara Phillips and Tina Cook.
Wilson, from Northallerton, North Yorkshire, had said she was "absolutely gutted" when missing out on selection and admitted to mixed emotions after being called up.
"It's horrific and fabulous at the same time. I'm devastated for Piggy and wouldn't wish this on anybody, she's become a very close friend and I feel for her so much," she said.
"What an emotional rollercoaster, obviously I'm so excited but so saddened at the same time for it to be at the expense of such a good friend. To be thinking about London now is amazing though - having very much told myself it wouldn't happen. We'll definitely be ready."
French finished third with Topper in a CIC two-star class at the Barbury International in Wiltshire on Saturday, and the nature of his injury has not been revealed.
She was initially selected with the choice of two rides, but her other horse Jakata suffered an injury two weeks ago.
Team leader Will Connell said: "Piggy is a truly outstanding athlete, a wonderful team member and one of life's good human beings. However, horses have a habit of giving great highs but also terrible lows."