London 2012: 'Heartbroken' Richard Kilty to contest omission
Last updated on .From the section Olympics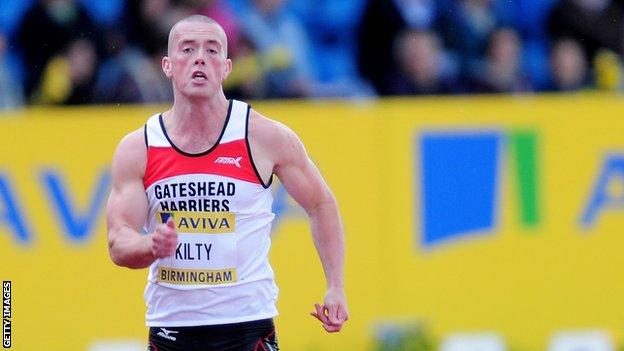 British 200m runner Richard Kilty says he will appeal against his London 2012 omission after being left "heartbroken" by the decision.
Despite running an 'A' standard time of 20.50 seconds, only Christian Malcolm and James Ellington will compete.
"To have run the qualifying standards and have met the criteria and then be not selected, it's heartbreaking really," he said.
Jenny Meadows, who missed out on the women's 800m, says she will not appeal.
But Kilty, 22, has said he will lodge an official appeal by Wednesday morning.
"The reason they gave me was due to lack of current form," Kilty told BBC Radio 5 liveSport.
"That's a bit hypocritical because what they are judging that from is the Olympic trials where I actually had a viral infection diagnosed by the UK Athletics doctors and I was advised not to run by them."
The Middlesbrough-born sprinter ran 20.50 seconds in April in Arizona - his personal best over 200m - but it was not deemed good enough to merit a third spot on the 200m team.
Kilty said: "I feel I am capable of running very fast now - the only reason I didn't at the trials was because of the virus.
"There are three spots available for the Olympic 200m. Two of them are already taken, and the only man eligible for the third spot was me.
"I had two 'A' standards - one from last year and one from this year."
Kilty is an unfunded athlete and believes this could be a reason for his omission, although high jumper Robbie Grabarz, also an unfunded athlete, made the Olympic squad.
"An unfunded athlete breaking into the Great Britain team shows their system is not working," said Kilty.
"I've struggled this year. For the last 10 weeks, I've actually been living on a bedroom floor in north London.
"I am unfunded, I have no sponsorship and have been training with Linford Christie in London. I've had to sleep on a bedroom floor, getting by on pennies to try to achieve my dream."
But while Kilty is determined to appeal, Meadows has passed up the opportunity to do so.
Meadows, 31, originally said she would appeal if not selected for the 800m, but has changed her mind as success would deselect Lynsey Sharp from the Games, because Sharp has only run a 'B' standard time.
Athletes who ran to the 'B' standard are only allowed to compete if no 'A' standard qualifiers are selected.
"I find it difficult [to appeal] the selection. Usually three 'A' standard runners are selected and there are currently four of us," said Meadows.
"If I was against them, I would have lodged an appeal, but they've gone for one athlete who only holds the 'B' standard which I find very, very strange.
"So for me to appeal I would basically deselect Lynsey and I haven't got the heart to do that."
But Meadows hinted that other 'A' standard athletes who missed out, Marilyn Okoro and Emma Jackson, may question the decision.
"I think others will, they will say they've got the current form, the current fitness and 'A' standard time," she said.
"Lynsey is in peak shape, she's a very good tactician and I hope she can run the 'A' standard at the Olympics, which would make me feel she deserves the place.
"But I feel for the other girls. They have all been competing, they have all got 'A' standards. It's a bit of a slap in the face really."
Meadows also insisted she will not be retiring after the setback, though conceded she may not run in the Olympic Games again.
"The fight is on and I feel I have much to prove over the next few years," she said.
"It may be my last Olympic campaign but I have a lot more to give and hope to go on to greater honours in the future."