Team GB athletics selection inconsistent - Steve Cram

By Steve Cram
BBC athletics commentator
Last updated on .From the section Olympics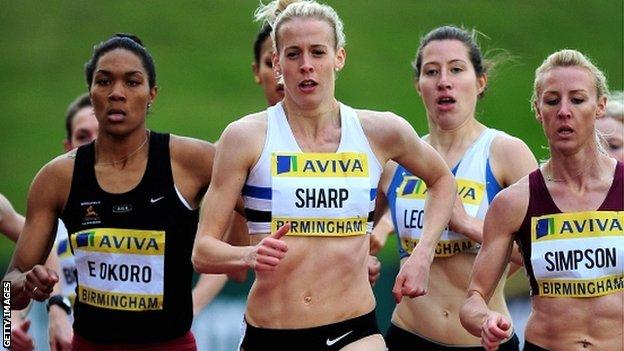 For a British athlete to be left out of a home Olympics is gutting and the decision to select Lynsey Sharp as the sole competitor for the women's 800m is certainly the one that will cause most discussion in athletics until the race comes around.
Meanwhile, 2011 European indoor champion Jenny Meadows, Marilyn Okoro, Emma Jackson and Jemma Simpson were left out despite achieving the 'A' standard - 1:59.90.
Meadows aggravated an Achilles injury before the recent European Championships in Helsinki and by choosing Scotland's Sharp, UK Athletics chief Charles van Commenee has basically said that the four girls that got the 'A' standard are not going to produce at the Games.
The problem here, though, is that there are people picked in other events where you could probably say the same thing.
It's a lack of consistency. Everybody understands that Charles wants to get people into finals and win medals and if people don't achieve that standard then fair enough.
But if somebody gets picked in another event, and I think there will be a few GB athletes who don't get out of the qualification rounds, your argument is: why were they selected?
It also comes as a surprise because at one point Charles made it fairly clear that those on 'B' standards wouldn't be competing in London.
The selectors will now be hoping Lynsey delivers a big performance in London. It is very difficult to judge her pedigree because this will be her first major championship and while she did well by winning a silver medal at the European Championships in Helsinki, it was a weak field.
The whole scenario is more about the other contenders having problems. As well as Meadows, Marilyn Okoro, Emma Jackson and Jemma Simpson have all achieved the 'A' standard either this season or last but regulations mean that there is no halfway ground; if you pick a 'B' standard athlete you cannot pick an 'A' standard one.
Okoro had one bad race at the Olympic trials and that put paid to her chances, while Jackson picked up a bit of an injury although I think she will be running quite well come the time of the Olympics. But it's all about the here and now, and Sharp beat Okoro and Jackson at the GB Olympic trials, with Simpson behind her at the Europeans.
Being brutally honest I don't think any of the five girls can be considered as a medal opportunity in their current scenario. However, if you are being picked on a 'B' standard you are probably someone who is unlikely to make the final.
In the 200m, Richard Kilty is another disappointed British athlete having been left out, but if you appeal you have to do so on the basis that UK Athletics have got their facts wrong or they haven't followed the procedure they have set down.
Their policy was so convoluted it would be very difficult to find something in it that says why an athlete was not selected. I can see why Richard might want to appeal, but the policy was fairly clear that they could leave people out if they didn't feel they were going to be competitive.
The proof will come from the Games but overall, it is disappointing for me that seven years on from winning the Olympics we didn't get to fill places in quite a lot of events.
When we won the Games I was hoping we would have at least one British athlete in every single track and field final and that's not going to be the case.
That's as much up to the athletes and coaches as anything else. We haven't had enough good people coming through the ranks turning into full blown seniors and filling those places.
The good thing is that we have some good medal hopes and two or three good gold medal chances. I certainly think Van Commenee's target of one gold and a total of eight medals is achievable.