Venue profile for London 2012: Weymouth and Portland
Last updated on .From the section Olympics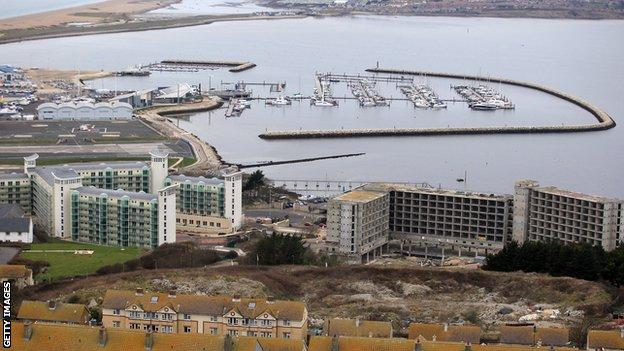 Located in Dorset on Britain's south coast, the sailing venue in Weymouth will be home to 700 athletes and 550 officials during the Olympic Games.
They will stay in the Osprey Quay development which contains 84 residential units, each one housing around eight athletes.
As for the competition venue, Weymouth already had world-class sailing facilities at its National Sailing Academy but improvements have been made.
A new permanent 250m slipway used for launching and landing boats has been built, as well as 70 new moorings.
And there's a new commercial 560-berth marina nearby; 250 of these berths will be used during the Games.
It is the biggest event Dorset has held and for that reason the Department of Transport advises spectators to plan ahead.
"With the area being so popular anyway as a tourist destination, when you add in the Olympics it will be exceptionally busy," Secretary of State for Transport Justine Greening says.
Once there, the experience promises to be a positive one.
The ticketed area at Weymouth's Nothe Gardens will have big screens and race commentary relayed to paying spectators.
Another big screen will also show the racing to non-paying spectators on Weymouth Beach.
Legacy
Transport improvements to get to Weymouth, along with investment in the sailing academy are all legacy benefits from hosting the sailing competition.
The National Sailing Academy will provide a tremendous facility for elite training, elite competitions, and community use.
The apartments will be converted into homes with 25% of the housing made available to a registered landlord for social housing needs.