Lisa Dobriskey beats 'bumpy ride' to gain Olympic spot
Last updated on .From the section Olympics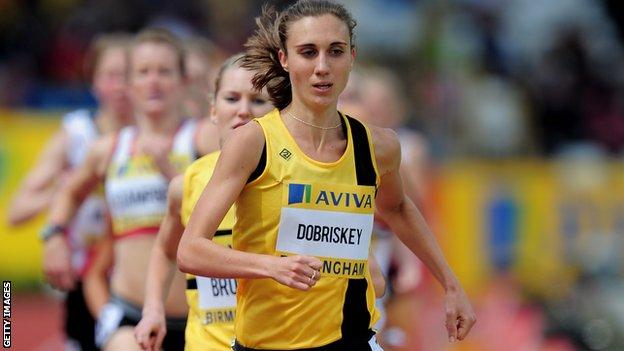 Ashford's Lisa Dobriskey says love for the sport helped her overcome a year blighted by injury and illness.
The 28-year-old will compete in the Women's 1500 metres at London 2012, having finished fourth in Beijing four years ago.
"I've had quite a bumpy ride in places," she told BBC Radio Kent. "I do look to the positives.
"I've got a tremendous ability which I never take for granted and I've got such a passion for the sport."
She added: "Any setback is always easier to overcome when I can see the ability to be able to run again."
The 2006 Commonwealth Games gold medallist has endured a nightmare 12 months in the build up to London 2012.
Following surgery last September, Dobriskey suffered a femoral stress fracture in February, following which specialists advised her to stop running for three to four months.
In May she was diagnosed with a pulmonary embolism on her lungs and again instructed to rest.
She bounced back to finish second at the Olympic trials and thanked her support staff for simply getting her to the starting line.
"I wouldn't be able to do half of what I do without them," she said. "They all keep me in one piece.
"Every training session is so carefully prescribed because I am so injury prone. I'd be completely lost without it."
She will compete at the Diamond League meeting in Paris on Friday, and admits she will be thrown into the deep end in a star-studded international field.
Dobriskey, a world silver medallist in 2009, competed just once before the two races in Birmingham and was forced to rely on the selectors to pick her.
"In my head I told myself that I was going to the Olympics and focussed on my training that would get me there," she stated.
"I didn't waste any time or energy stressing on whether I would be there or not."
She concluded: "I really hope to make the final. I was fourth in Beijing so for me to go one better would be the ultimate goal."