London 2012: Pink Thursdays inspire Team GB Synchro squad
Last updated on .From the section Olympics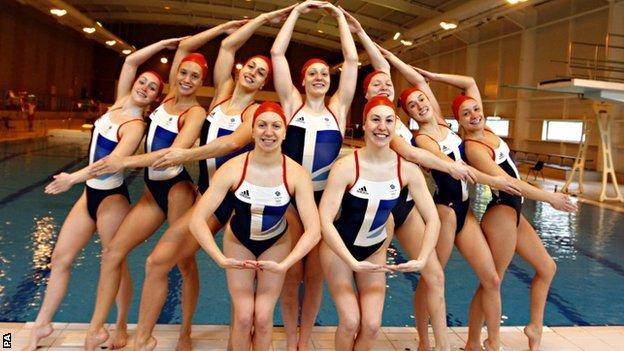 You can wear your Team GB supporter's scarf and drink from your London 2012 mug, but our Olympic synchronised swimmers have turned to social media to get their supporters behind the team in the build up to the games.
For the last year the team have been calling the first Thursday of every month "Pink Thursday" on Twitter.
"We had a team meeting and were talking about motivating ourselves for the Olympics sometime last year, and I came up with the idea because the pool was originally going to be dressed in pink and blue," explained team captain Jenna Randall.
"So I said maybe on our hardest day, which is a Thursday, we could once a month dress up in the colour pink and have an Olympic spirit day.
"The idea is where we come in in crazy things and pink and just get our spirits up and get excited. And it's kind of grown from there and in our gym sessions we actually have our pictures from the last 10 pink Thursdays, and it's really cool to see and it gets us in great spirits."
The team train six days a week for a total of 42 hours in the gym and pool and recently that hard work has been paying off.
They finished in fifth place at the European championships in Eindhoven in May, their highest ever position. The duet of Jenna Randall and Olivia Federici finished in second place at the Spanish Open last month, beating rivals USA and France. Something simple like wearing the colour pink can be a big motivator in training.
This summer the team and duet both want to finish in the top six in the Olympic Pool. It is a realistic aim for a young squad who are building towards the 2016 Olympics in Rio. Much of the work being done now by the squad has been to raise the profile of the sport they love.
That is why "Pink Thursday" has become a Twitter campaign. On the first Thursday of each month the squad post a picture of themselves, and encourage others to do the same, using the hashtag #PinkThursday. Celebrity supporters include theatre star Adam Garcia and Olympic Gold medallist Robin Cousins.
Katie Dawkins, who swims in the team event, says that the support does help in the training sessions.
"It's great that everyone has got behind us and followed us and dressed up in pink as well to support us," said Dawkins.
"It's really great to know that people are following us on Twitter and dressing up in pink and doing the same as we are doing for the Olympics."
And you can support the GB Synchronised swimming team on their final Pink Thursday on the fifth of July by tweeting a picture of yourself wearing something Pink and using the hashtag #PinkThursday.