London 2012: Archery could learn from darts - Alan Wills
By Saj Chowdhury
BBC Sport
Last updated on .From the section Olympics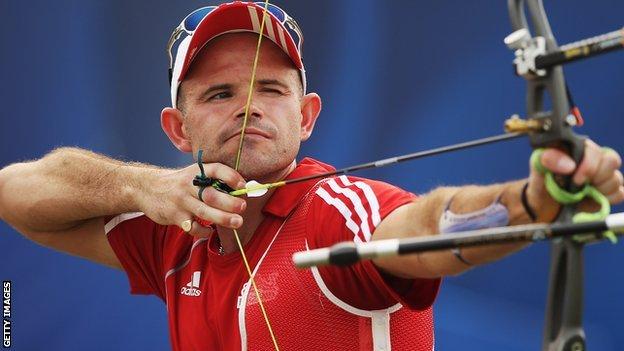 Alan Wills believes that archery would benefit from the kind of transformation undergone by darts in recent years.
The Cumbrian, who is part of Great Britain's Olympic squad, says a change could boost the sport's popularity.
"They could have a masters event with archers from around the world, and have crowds like they do at the darts," Wills told BBC Sport.
"I'm known as 'Dangerous Al', so others could have nicknames too. It'd be more exciting for people to watch."
Promoter Barry Hearn helped revolutionise darts during the last decade, with players given nicknames and entering the arena to music.
As a result, attendances at events have vastly improved, along with the prize funds, helped by the growth in television coverage.
Wills' pleas may not prove universally popular. In 2010, British archers, including Olympic bronze medal winner Alison Williamson, complained of the "rowdy" crowd during the Commonwealth Games final against India.
Wills, who competed in the individual and team events in Beijing, added: "It is also about getting the right sponsors and media attention.
"As soon as you see faces on telly [during the Olympics], the popularity will jump, but it needs the media to push it.
"The problem is, a couple of months after the Games that spike in interest may fizz away again."