London 2012: Kat Driscoll cool on trampoline medal
Last updated on .From the section Olympics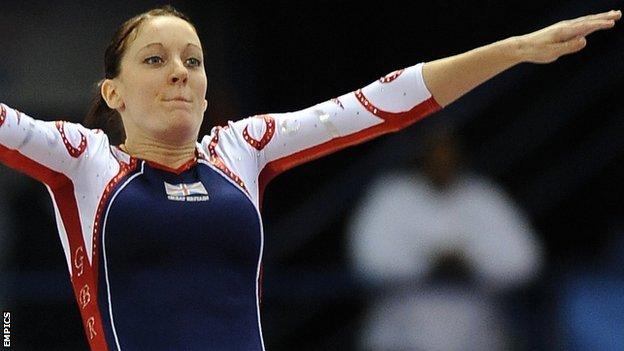 Trampolinist Kat Driscoll has cooled speculation of her winning a medal at London 2012 and wants to focus on making the final.
"Realistically I'm looking at making a final," she told BBC South East Today.
"I want to feel confident and to get off the trampoline after my second routine and be happy and proud."
She added: "A British girl hasn't made a final at an Olympic Games yet so that's one goals that I'm trying to achieve.
"Then it all goes back to zero so from that point it's anyone's games."
The Chatham-born gymnast, who now lives in County Durham, was ranked first in the world in 2011 and earned Great Britain an Olympic berth by making the final at the World Championships in Birmingham last November.
Prior to London 2012, she will take part in the British Championships in Birmingham this weekend before heading to Lilleshall for an intense 12-day training camp.
Whilst London will be the first Olympics at which she competes, Driscoll revealed her motivation was heightened by visiting Beijing in 2008.
"I saw a couple of the processes of a couple of the girls who were my idols who went to the games.
"We got to fly out to Beijing, go out to the village and watch a couple of the events.
"Once I was there, I thought this is definitely what I want to do.
She concluded: "From that point on I decided that this was going to be my games and I was going."