London 2012: Gareth Warburton wins 800m selection appeal
Last updated on .From the section Olympics41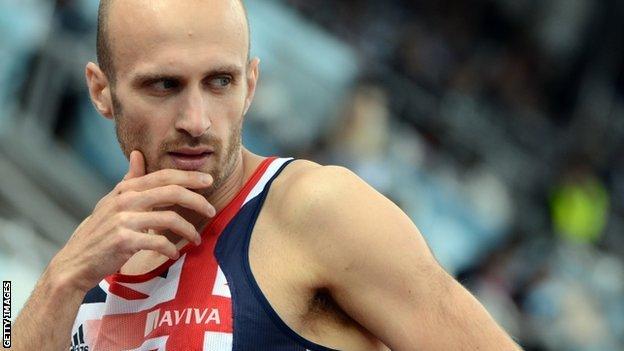 Welsh 800m runner Gareth Warburton has been added to Team GB's Olympics squad after winning an appeal against omission, but 10 others were rejected.
Warburton was left out of the squad after failing to achieve the second 'A' qualifying time he needed at the European Championships in Helsinki.
But the 30-year-old will join Andrew Osagie and Michael Rimmer in the 800m.
UK Athletics (UKA) chairman Ed Warner, who chaired Friday's appeals panel, said: "We appreciate that this is a difficult time for athletes who were not selected to Team GB.
"Appeals are heard on a matter of process and facts and not opinion, and the panel considered 11 appeals today of which only Gareth's was successful."
The British Olympic Association announced three other additions to the squad - men's beach volleyball pair John Garcia Thompson and Steve Grotowski, plus Abigail Edmonds, who is the 10th and final member of the canoe sprint squad. She will compete in the women's K2 500m event.
Warburton was just 0.2 seconds away from achieving the qualifying time in Helsinki and initially missed out on a discretionary place.
"I am absolutely delighted to have been selected to Team GB to represent my country at our home Olympic Games," he said.
"This is an incredible opportunity for me and I intend to make the most of it. I am joining a fantastic team of athletes and we're all focused on doing Britain proud this summer."
Warburton needed to clock one minute 45.60secs in Finland, but ran 1:45.80 in his heat. He then finished last in his semi-final and missed out on selection despite a time of 1:44.98 in May.
Warner and UK Athletics president Lynn Davies assessed the appeals, together with an independent barrister.
"In light of independent legal advice, the appeals panel decided that the combination of Warburton's current 'A' and current 'B' standards made him selectable under the UKA selection policy and he has been added to the team," said Warner.
Warburton joins the 77 athletes previously selected to complete the British track and field line-up and the overall number of athletes selected for Team GB to 542 from across 26 sports.
Among the other athletes to appeal were women's 800m runners Simpson and Emma Jackson, with Lynsey Sharp controversially selected despite only having the 'B' standard.
Cornish athlete Simpson, 28, said on Twitter: "My appeal was unsuccessful but at least I tried."
Jackson, 24, from Staffordshire, had been hampered by a rib injury when finishing seventh at the Olympic trials.
She wrote on Twitter: "Not too surprised that the appeal was rejected but I had to try. All I can do now is prove to everybody that I should have been in the team."
Kilty said he was heartbroken after failing to win a discretionary third place in the 200m alongside Christian Malcolm and James Ellington.
The Middlesbrough-born sprinter ran a personal best 20.50secs in Arizona in April, but said the selectors were concerned about his recent form.
"There are three spots available for the Olympic 200m. Two of them are already taken and the only man eligible for the third spot was me," said the 22-year-old.
"I had two 'A' standards - one from last year and one from this year."