London 2012: GB wrestler Myroslav Dykun gets two-year ban
Last updated on .From the section Olympics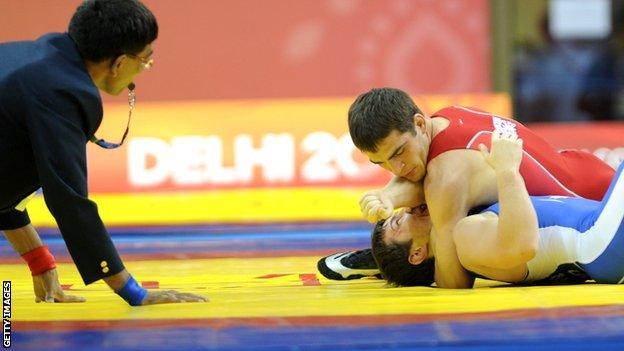 British Greco-Roman wrestler Myroslav Dykun has been given a two-year ban after a failed drugs test.
Ukrainian-born Dykun, who was a British medal hope for London 2012, is now banned until 29 April 2014.
The 29-year-old won Commonwealth gold for England in 2010.
Dykun will lose the British -74kg greco-roman title he won in March, but none of his other competitive results are being investigated.
It is another setback to the sport which had its allocation of host-nation berths reduced to one in May, leaving Olga Butkevych as their only competitor.
UK Anti-Doping chief executive Andy Parkinson said: "Our pre-Games prevention programme was put in place to ensure that only clean athletes represent Great Britain and this case proves that the system is working.
"When the eyes of the world fall on London later this month, we want the public to have confidence in clean sport and understand that doping of any kind will not be tolerated."
British Wrestling chief Colin Nicholson told BBC Sport in May that Dykun's positive test was a significant blow.
"Myroslav had the potential to do well [at London 2012]," he said.
"The situation is extremely disappointing for the sport.
"We believe it [the sample] tested positive for amphetamines, which we see as recreational - not performance enhancing in the sport of wrestling.
"Under no circumstance can British Wrestling condone drugs in sport whether performance enhancing or recreational.
"British Wrestling will not tolerate such behaviour from anyone and we are supporting the drug-testing programme.
"The fact we've got in effect an athlete caught is evidence we are determined to work in partnership to route out anyone misusing substances."
Dykun, who married a former British wrestler, attained British citizenship more than five years ago as a result of length of residency in the country.
He did not attend the European Olympic qualification event in Bulgaria or the first World Olympic qualification event in China and, after news of the positive doping test, was withdrawn from the squad for this week's second World Olympic qualification event in Helsinki, Finland.
Dykun is one of a number of Eastern European wrestlers who were brought to Britain to help develop a world-class academy in Manchester.
In 2007, Yana Stadnik and Olga Butkevych joined the set-up as sparring partners.
However, last year several British wrestlers alleged that roles had been reversed and GB athletes were now acting as training partners to their foreign counterparts who were eligible to compete for Britain.
Britain's last Olympic medal in the sport was in 1984 when Londoner Noel Loban won bronze in Los Angeles.