London 2012: GB women rowers to lead the way - James Cracknell
By James Cracknell
Two-time Olympic champion
Last updated on .From the section Olympics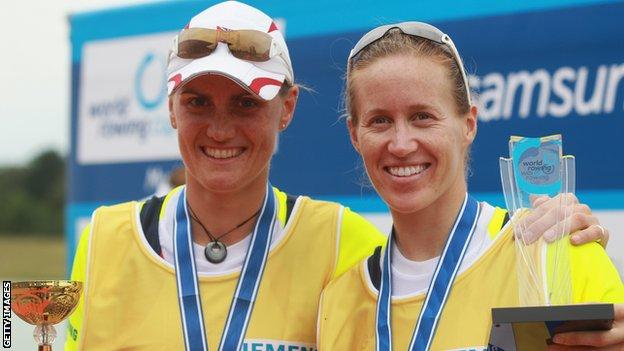 Great Britain has never won an Olympic gold medal in women's rowing but I believe there is a strong chance we will get one, maybe even two, this summer.
Heather Stanning and Helen Glover have been phenomenal in the women's pair this season, while Katherine Grainger and Anna Watkins have been unbeaten in the double scull since they formed a partnership over two years ago.
In the men's event, I think we'll get at least one gold - probably in the men's four - but that quartet have got a lot of work to do between now and the start of the Olympic rowing regatta on 28 July.
Great Britain won six medals in Beijing - two gold, two silver and two bronze - and you would have to say they have been the best rowing nation in the world during the last Olympic cycle.
But the results in the World Cups this season have shown that even the best in the world can be beaten.
Women's pair
Glover and Stanning are going to take some stopping. They've grown in confidence since winning the first World Cup regatta of 2012 in Belgrade and then going on to dominate the other two.
Their main rivals, New Zealand, were awesome towards the end of last year, but the GB girls have worked hard over the winter - and it shows.
They have got the determination, the belief and the confidence to take gold in London and, because of their place in the schedule, they may well win the first ever gold for British women's rowing.
Everyone thought that honour would fall to Grainger and Watkins, because Grainger has three Olympic silver medals, but these two have really come on.
Women's double
Watkins and Grainger have done nothing wrong - they haven't lost a race since they formed a partnership in 2010.
What is interesting is that Brooke Pratley, one of the Aussie crew who finished second behind them in the Munich World Cup, was injured earlier this season.
As a result, team-mate Kim Crow qualified the single and then came a strong second in the Lucerne World Cup in the event, before deciding to move to the double in Munich.
Though Kat and Anna have raced incredibly well, they haven't managed to frighten everyone out of the event. That's interesting, because it means the Australians obviously believe they can beat the British pair and take gold.
Men's four
Deciding to break up a world champion crew was a big risk, but men's head coach Jurgen Grobler won't have taken the decision to bring in Olympic champions Pete Reed, Andy Triggs Hodge and Tom James to join Alex Gregory lightly.
Winning the first two World Cup regattas of this year was encouraging but they lost to a very strong Australian crew last time out in Munich.
That said, we [with Sir Steve Redgrave, Tim Foster, Sir Matthew Pinsent in 2000, and with Pinsent, Steve Williams and Ed Coode in 2004] didn't win our last race before Sydney and Athens and we still won gold, while in 2008 the crew lost their last race before Beijing.
It would have been nice to have gone to the Games unbeaten but they know what they need to do to win. They have got to up their pace in the middle of the race. Their sprinting speed is strong, they just need to work on endurance.
The Aussies will be more efficient, but they won't be any stronger, whereas our boys can be more efficient and will be stronger because they've done the work in the gym. There is no reason why they can't beat the Australians.
Men's lightweight double
Mark Hunter and Zac Purchase, the reigning Olympic champions, have struggled in the last two World Cup regattas after winning the first.
They've shown the speed but the difficulty is that they have to get down to their racing weight, which throws up uncertainty, but being at home in Britain they will have the advantage in some respect.
Mark took a year off after Beijing and then had a bad winter over 2009-10, and Zac had a bad one over 2010-11. You can get away with one dodgy winter but to have lost two-and-a half between them is bad, because you need that bulk of training behind you.
They've got a lot of work to do before the Games but they've been there and done it and are big occasion performers. If they put the miles in before and get everything out of the boat on the day, they will be right in the mix.
The verdict
If we can get two golds in the heavyweight women's, one in the heavyweight men's and a medal in the lightweight men's - which I think we can - it will have been a phenomenal regatta.