London 2012: Brixton made me the player I am - Luol Deng
Last updated on .From the section Olympics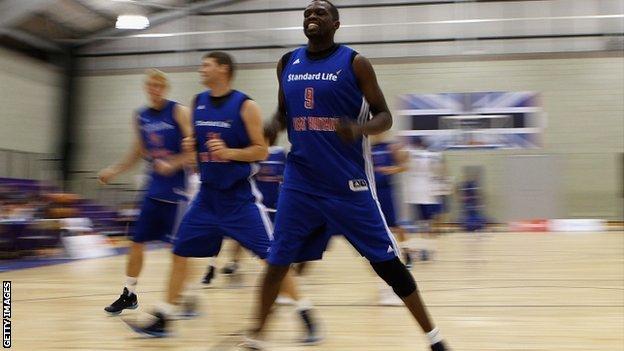 In the latest part of our weekly #olympicthursday series profiling leading British hopes, BBC World Service reporter Chris Mitchell meets basketball star Luol Deng.
Luol Deng is passionate about England, London and Brixton in particular.
The six-foot-nine Chicago Bulls star puts his success down to his early days with the Brixton Topcats, where the coach Jimmy Rodgers discovered him and convinced a then football-mad Deng to give hoops a chance.
"I wanted to be a footballer, I was really good," says Deng. "It was very hard for me to let go of football and go to Brixton to play basketball.
"I remember my brother kept trying to get me to go and I kept dodging him and I kept making excuses. Finally, I went with him and started practising and started playing with the older guys until Jimmy came over and he was like: 'You have a chance to be something special.'
"Since that day I just worked hard and listened to him, and basketball grew on me.''
Deng, 27, will be the focal point when Great Britain's men make their first Olympic basketball appearance since 1948, and he joined up with the squad for a training camp in Houston last month.
He and team-mates Eric Boateng and Ogo Adegboye played at the Topcats and there's clearly a brotherhood within the camp in Texas.
"Everyone who played at Brixton knows how important it is to say you're from Brixton," says Deng.
"It's a small community and we are all really proud of where we come from. We were all taught basketball by Jimmy and since day one, the way we were taught is the way we grew up. We all have similar characters and that's because of Brixton basketball and the foundation that was put together - the discipline, the hard work.''
Deng's family fled civil war in Sudan when he was a young child. He lived in Egypt for five years, then moved to London and on to college in the USA before joining the Chicago Bulls.
Things could have been very different for him, but he rejects the notion that he had a hard or troubled upbringing.
"I remember the first time I played soccer in England. I'd never, ever, played on the grass and I'd never played with a real soccer ball.
"Growing up we would get two rocks and use those as goalposts and and we would make a ball out of socks and that's how we would play, and the shoes that you had were barely hanging on. But at the time you enjoyed that.
"A lot of times people ask how difficult was it. It really wasn't difficult. It's only difficult now, when I tell you the story, because you've had nice shoes, you've had the big soccer ball, you had the goalposts and the nice grass. I didn't have all that so I didn't have to compare it. I went with what I had and enjoyed it. So when we came to England, it was a different world for me."
Deng is not with Team GB for the glory. If the host nation is to do well, Deng needs to be on court for as long as is humanly possible.
This season he averaged over 39 minutes per game for Chicago, more than any other player in the NBA. He says his endurance is something else he learned in Brixton.
"There was never a day that I came to practice and left feeling I didn't put in the work," he explains.
"I've never worked as hard as I did in Brixton. Jimmy really pushed us to the limit. There were times when I felt like it was a little too much but, as I got older, I realised that I am who I am because that was part of me.''
Deng has been with the GB Basketball project since 2007, despite his relentless programme across eight NBA seasons. The time on court has taken its toll.
His bandaged left wrist - which has been damaged for some time - looks thin and vulnerable. He needs an operation but is putting it off until after the Games. He says his knees are fine but he walks out of the gym in Houston straight-legged, like a scarecrow. He has wrapped them so tightly in ice at the end of his session in the gym that he can barely move.
Deng is so precious to the GB camp that he sits out the five games in Houston but he is a fixture on the bench throughout, watching each match avidly.
In the time-outs he is up and talking, giving his words of advice, before the coach Chris Finch joins the huddle.
Deng is disappointed as GB lose a game they should have won against Nigeria at the Baptist University in Houston. If they can't beat the African underdogs how can they expect to do anything other than lose at the Olympics?
"You can't look too far ahead," he says. "What I've been telling the guys is one game at a time. And we just take it from there."
It is difficult to see GB beating Russia, Brazil or Spain in their group but they could make the knockout rounds if they beat Australia and China.
"Whoever you play, it's tough," Deng admits. "Obviously some teams are better than others but every game is going to be a grind, every game is going to be a fight, and we understand that."
The United States - with NBA champion Lebron James and LA Lakers star Kobe Bryant - are favourites to defend their Olympic title, but Deng suggests it is not a forgone conclusion.
"You've got to look at teams like Spain, you've got to look teams like Argentina," explains Deng. "Teams who have a lot of experience, a lot of guys who've done it before and are still the same group and saying it's their last round together."
Clearly it will take something spectacular for GB to progress beyond the group stages but Deng believes it is possible.
"If you don't think that way, you may as well not show up. We definitely believe. We've been working very hard.
"You know, it's funny, the guys that are in the team are the same guys I grew up with. We always used to say that one day we would put British basketball on the map.
"It's a special time for us and all the kids that love basketball to finally stand proud and say, 'That's our team.' It's huge for us.''