London 2012: I'm no flashy NBA superstar, says Luol Deng
By Chris Mitchell
BBC World Service
Last updated on .From the section Olympics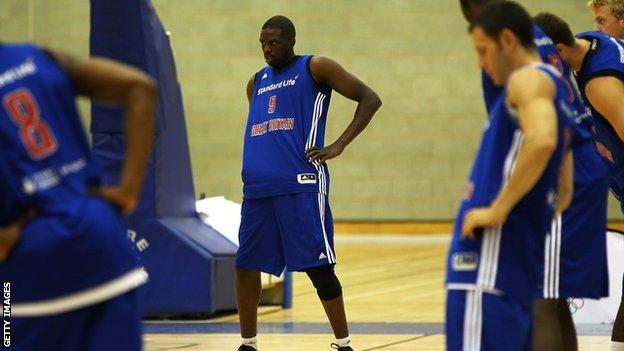 Luol Deng has just lost a no-holds-barred one-on-one game with his team-mate Pops Mensah-Bonsu at the Houston Rockets practice gym in Texas.
This is where the GB basketball team have come for their pre-Olympic training camp, and BBC Sport has been given access.
Deng is on a day of light gym work but cannot resist a full-on tussle with Mensah-Bonsu.
"Basketball is my passion and I love it," he says. "But I am not going to lie to you. I don't like sitting with the media."
Deng may not enjoy the attention, or losing to Mensah-Bonsu, but he is happy to talk about London 2012 because, for him, this is the sport's time to shine.
"It's a huge opportunity for us to show that British basketball can compete with the rest of the world," says the 27-year-old.
Deng is key to the GB team and coach Chris Finch does not try to hide the fact. The plays that the team work on in Houston are built around him and at one point Finch asks Deng how he wants the play to unfold, how it would work best for him.
It would be easy to assume that, given his importance in the team and his status as an NBA All-Star, Deng would have an NBA-size ego, but nothing about his demeanour suggests superstar.
"I'm not a cocky guy," he says. "I'm not the guy that sits there and talks about himself. I don't do that. I would rather go out and no one recognise me.
"I would rather be with my friends and lay low. But at the same time I appreciate when people come up to me and just thank me for what I do, or say that they enjoy watching me."
Deng has an amazing and oft-told back story - his family fled civil war in Sudan when he was a young child and he lived in Egypt and London before heading to college in the USA.
"It just brought us together as a family," he says. "Without my parents, my sisters and brothers, we all worked - well they did; I was young at the time.
"Everything that we made, we kind of brought it in together, and we shared that money for the next meal. And that brings you closer as a family because you're working together.''
Deng is the ultimate team man with Chicago and GB, an unselfish, dogged, defensive player who works tirelessly to find an open shot.
He smiles when asked whether his humble background sits easily with the multi-million dollar NBA life - his contract with Chicago is worth US$45m.
"I don't go out of my way and get things that I don't need," he says. "I am not a flashy guy. I don't get things just so people can see that I have it. I don't do any of that."
But the NBA is full of flashy people; how does that sit with him?
"I respect that, I love flashy people!" he says, laughing. "It's who you are, it's your style. I don't blame anyone for being flashy, or not being flashy. You are who you are. I've got a lot of friends who are flashy and I love them."
Despite fame and money, it is clear that Deng is revered, respected and liked by his team-mates.
Perhaps there might be tension between Deng and Mensah-Bonsu, an NBA-calibre player in his own right who is loud and excitable? He is a Tottenham fan; Deng is Arsenal through and through.
"There's no clash whatsoever," says 28-year-old Mensah-Bonsu. "He doesn't have an ego. You would think someone of his talent, his calibre, could easily have one, but I think the one thing that defines Luol, as a person and even more as a player, is the fact that he's so down to earth."
Outside the gym in downtown Houston, nobody appears to recognise Deng as he strolls across a public basketball court for a photo shoot.
He engages quietly with an old guy shooting hoops, shares a joke and takes the advice he's offered in good humour.
But Deng's lack of ego cannot always disguise the views and opinions he is passionate about. Millions around the world watching this year's NBA All-Star game in Orlando would have seen the Chicago player, making his All-Star debut, take a stand for Africa.
As the teams lined up before the start of the game, Deng revealed to the world a T-shirt emblazoned with a flag coloured with the pan-African colours.
Such individual outbursts are seriously frowned upon by the NBA, who have a strict dress code, but Deng says he risked a fine because he wanted to make a statement.
"There's lot of talk about basketball in Europe, there's a lot of talk about basketball in Asia and I just feel like sometimes Africa is forgotten a little bit," he says.
"I knew a lot of kids in Africa were staying up late and watching it and I felt like, you know what, I have an opportunity to take off my warm-up top and just show them where I come from and how proud I am to be representing them."
Deng's passion for Africa and the fact he was born in Sudan has led some to label him as one of the so-called 'Plastic Brits', but he heads to London proud to represent Team GB.
There are no divided loyalties: he loves Sudan; he loves the UK too.
"Sudan will always be home for me because that's where I was born and that's where my family is from," he says.
"But I always say if you were to take me and drop me in London I know my way around everywhere. I can't do that anywhere else."