London 2012: Can Team GB really win 95 medals?
By Ollie Williams
BBC Olympic sports reporter
Last updated on .From the section Olympics104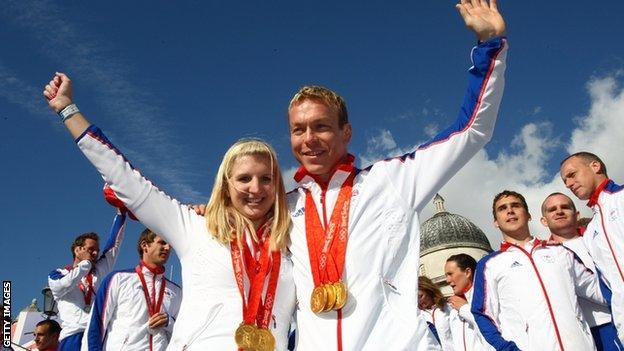 It would be the greatest Olympic performance in history.
For a country the size of Great Britain to win 95 medals at London 2012 would wipe out footballing misery, Wimbledon woe and any other sporting grievance you care to mention.
The achievement, which would instantly restore Britain to the pinnacle of world sport, is a pipe dream.
And yet a panel of experts convened by BBC Radio 5 live's Virtual Medal Table programme predicted exactly that: 27 gold medals, 25 silver and no fewer than 43 bronze, for a total of 95.
That figure almost doubles funding body UK Sport's London 2012 minimum target of 48 medals.
"That's more than we are predicting for any country - we have China on 92 and the United States on 88," scoffed Simon Gleave, an expert from sports statistics provider Infostrada, as the final tally was announced. His company predicts 64 medals and 19 golds for GB, "enough for fourth place".
"I love the ambition... but then there's reality," tweeted Team GB chef de mission Andy Hunt, who has no desire to be held to any such lofty benchmark.
Olympic swimmer turned BBC presenter Steve Parry conceded: "There were a lot of bronze medals thrown in there. Naturally, our pundits don't want to talk down the chances of athletes."
Most of those brought on-air to summarise their sport's hopes erred on the side of optimism.
Yet none of them presented wild theories or plucked numbers out of the air. Each medal of the 95 has a basis in fact. The overall figure may sound ridiculous, and every break would have to go Britain's way for 17 days - but could it happen?
These predictions come just 16 years after the Atlanta Games, from which Team GB returned with what now feels a miserable one gold medal and 15 in total. The 5 live virtual table for 2012 practically matched the latter in athletics alone.
However, beyond the 95-medal figure, a target of 27 gold medals may be more achievable.
That is in the upper bounds of what most statisticians and forecasters are comfortable projecting, but a team from Sheffield Hallam University did just that several months ago.
Take a look at the sport-by-sport breakdown below and the views of the experts responsible.
Is there any remote hope of Team GB reaching a staggering 95 medals? Is 27 gold medals any more realistic?
Or, under the weight of expectations like those, will the British have their hands full simply matching Beijing's fourth place with 19 golds and 47 in total?
The Predictions
ARCHERY: two medals (two bronze - UK Sport target: 0-1 medals)
"The men's trio won a recent World Cup gold," said 5 live's Gordon Farquhar in reaching his verdict that both men's and women's teams would pick up a medal at Lord's.
ATHLETICS: 14 medals (three gold, two silver, nine bronze - UK Sport: 5-8 medals)
BBC athletics pundit Kath Merry started by saying Team GB had "no bankers" on the track, particularly in women's athletics, yet she produced a number of "outside shouts" - including Paula Radcliffe - before installing heptathlete Jessica Ennis as a gold medallist.
Dai Greene and Mo Farah were singled out for Olympic titles too, with two for Farah over 5,000m and 10,000m.
Steve Backley predicted silver for Robbie Grabarz and Philips Idowu in the field events, but said of his colleagues' track predictions: "What are they on? That's crazy."
BADMINTON: one medal (bronze - UK Sport: 0-1 medals)
Gail Emms, Athens silver medallist in the mixed doubles, backed her successors Chris Adcock and Imogen Bankier to win a medal.
"They're a new pair and very, very young, but they won silver at last year's World Championships inside the Olympic arena," she explained.
BASKETBALL: one medal (bronze - UK Sport: no medals)
In one of the night's more controversial moments, British basketball great turned BBC commentator Fabulous Flournoy hesitated at length before presenter Russell Fuller prised one bronze medal out of him. "If they get out of the group stage, anything can happen," said Flournoy of GB's men.
BOXING: eight medals (three gold, three silver, two bronze - UK Sport: 3-5 medals)
Ever-confident boxing analyst Steve Bunce unflinchingly picked Anthony Joshua, Tom Stalker and Savannah Marshall as Britain's three boxing gold medallists-in-waiting.
Infostrada's Simon Gleave concurred that Marshall looked set for "nailed-on gold" according to his company's model.
CANOEING: four medals (one gold, two silver, one bronze - UK Sport: 3-4 medals)
Martin Cross told 5 live he anticipated one medal of each colour from canoe sprint, particularly the 200m distances, despite ruling out a successful defence of Tim Brabants' K1 1000m title - then added a silver for David Florence in canoe slalom.
"This is one of the few areas where our model is more optimistic," said Infostrada's Gleave of the sport as a whole. "We project two gold medals."
CYCLING: 14 medals (six gold, three silver, five bronze - UK Sport: 6-10 medals)
Rob Hayles picked out Shanaze Reade from BMX and wrote off hopes in the Olympic mountain biking, but insisted hopes were incredibly high on the road and the track.
"We're going to see those guys set the world on fire yet again," he said of Bradley Wiggins and Mark Cavendish in the time trial and road race respectively. "They've got six days between the end of the Tour de France and the Olympic road race - not a problem."
On the track, Hayles added: "We're world champions in the men's and women's team pursuits. That's two golds, straight away."
Infostrada were less convinced. "Fourteen sounds pretty high to me," cautioned Gleave. "Our table has nine medals with four of them gold - and Mark Cavendish does not win a medal."
EQUESTRIAN: six medals (two gold, one silver, three bronze - UK Sport: 3-4 medals)
GB eventer Pippa Funnell, who missed out on selection for London 2012, nevertheless handed Britain team eventing and dressage gold.
But Infostrada pointed out that the Dutch could hamper British hopes in the dressage, where Funnell had envisaged both GB gold and silver.
FENCING: one medal (bronze - UK Sport: 0-1 medals)
The BBC's Gordon Farquhar awarded one medal to Richard Kruse in the men's individual foil.
FOOTBALL: one medal (bronze - UK Sport: no target as unfunded)
Gavin Hamilton, from World Soccer magazine, said: "If GB were to get a bronze medal between the two teams, that would be a major achievement."
GYMNASTICS: four medals (one gold, one silver, two bronze - UK Sport: 1-2 medals)
BBC commentator Mitch Fenner awarded gold to Beth Tweddle - "hugely strong physically and mentally" - but only silver to Louis Smith, with bronze medals for Dan Purvis and the men's team.
HANDBALL: no medals (UK Sport: no medals)
Gordon Farquhar observed: "The British teams are there to win friends and new audiences, not medals, and they know that."
HOCKEY: two medals (one gold, one bronze - UK Sport: 1-2 medals)
Sean Kerly, 1988 Seoul gold medallist, only went as far as bronze for the GB men but BBC commentary partner Mel Clewlow, herself a former GB international, elevated the GB women to first place after some thought.
JUDO: two medals (two bronze - UK Sport: 0-1 medals)
Eleanor Oldroyd, reporting from this summer's judo for 5 live, selected world number 14 Euan Burton as her best bet for a medal at London 2012, saying: "He could get a good draw and go on a roll."
MODERN PENTATHLON: two medals (one silver, one bronze - UK Sport: 1-2 medals)
Oldroyd again, the pentathlon commentator for BBC TV, reckoned: "Since 2000 this has been a massive success story for GB's women, winning four of nine medals on offer."
She backed Mhairi Spence for silver and Nick Woodbridge for bronze, but Infostrada predicts a mere lone bronze for Spence.
ROWING: seven medals (two gold, three silver, two bronze - UK Sport: 6 medals)
James Cracknell surprised Infostrada with his restrained approach to British hopes in rowing, concluding "I would put my money on Kath Grainger."
Gleave conceded Cracknell's selections were "very realistic - perhaps too much so", adding: "Our table has 10 rowing medals."
SAILING: seven medals (two gold, three silver, two bronze - UK Sport: 3-5 medals)
BBC reporter Rob Walker matched Cracknell's rowing figure with his sailing prediction, noting that Ben Ainslie would win gold as he took "the opportunity to become the greatest-ever Olympic sailor".
SHOOTING: one medal (one silver - UK Sport: 0-1 medals)
The BBC's Rob Nothman, preparing to cover shooting at the Games, selected GB's Peter Wilson as a silver medallist ahead of team-mate and Sydney Olympic champion Richard Faulds in men's double trap.
SWIMMING: 10 medals (four gold, two silver, four bronze - UK Sport: 5-7 medals)
Karen Pickering, 5 live's swimming analyst, awarded gold to Keri-Anne Payne in open-water swimming, Ellen Gandy in the women's 200m butterfly, Rebecca Adlington defending her 800m freestyle title and an Olympic gold for Fran Halsall.
Pickering also plumped for two bronze medals in diving, from both synchro pairs, and silver for Hannah Miley.
But there were no medals for male swimmers. "Our one man with a chance is James Goddard, but he's picked the worst event possible with the strength of the 200m medley field," she concluded.
"We see it slightly differently," said Infostrada's Gleave, delicately. "Our model has seven medals with the same sorts of names, but scaled down. Even seven would be Britain's greatest performance in these sports since 1912."
TABLE TENNIS: no medals (UK Sport: no medals)
Table tennis received a straight no-medal score from the BBC's Gordon Farquhar.
TAEKWONDO: three medals (one gold, one silver, one bronze - UK Sport: 1-3 medals)
Jonathan Overend, covering taekwondo and tennis at the Games, predicted that Lutalo Muhammad - having won his selection battle against Aaron Cook - could become "the story of the Games and go all the way" to gold.
Even Infostrada were inclined to agree that Muhammad may use his selection dispute as "positive fuel" and stood a chance of winning the Olympic title.
TENNIS: two medals (one silver, one bronze - UK Sport: 0-2 medals)
Overend went on to predict more Centre Court heartbreak for Andy Murray with silver in the Olympic singles tennis final, with an additional bronze medal from one of the GB doubles partnerships.
Infostrada had Murray down as a losing semi-finalist as Wimbledon takes on its Olympic guise, finishing fourth.
TRIATHLON: three medals (one gold, one silver, one bronze - UK Sport: 1-2 medals)
James Cracknell, set to report on the Olympic triathlon this summer, predicted medals for Alistair and Jonny Brownlee but cautioned: "Going in as world champion is very different to coming out as Olympic champion."
Infostrada once again, as with the rowing, felt Cracknell was if anything too pessimistic. "Our table has both gold medals going to Britain," said Gleave.
VOLLEYBALL: no medals (UK Sport: no medals)
Gordon Farquhar summed this up as "a great spectacle" with reference to beach volleyball on Horse Guards Parade, but added that medal prospects in beach or indoor volleyball did not exist for GB.
WATER POLO: no medals (UK Sport: no medals)
Water polo was the 19th sport to be surveyed in the programme and the first for which the expert had the temerity to issue a "no medals" verdict. Lisa Knights said "the Olympics have come to soon" for her sport.
WEIGHTLIFTING: no medals (UK Sport: no medals)
Jim Neilly, heading to his eighth Olympics as a commentator, was unequivocal in ruling out medals for GB's weightlifters.
WRESTLING: no medals (UK Sport: no medals)
Rounding off a threadbare conclusion to the alphabet, Gordon Farquhar predicted no medal from GB's sole representative in wrestling.