London 2012: Craig Dawson's rise to Team GB from glass collector
By Marc Higginson
BBC Sport
Last updated on .From the section Olympics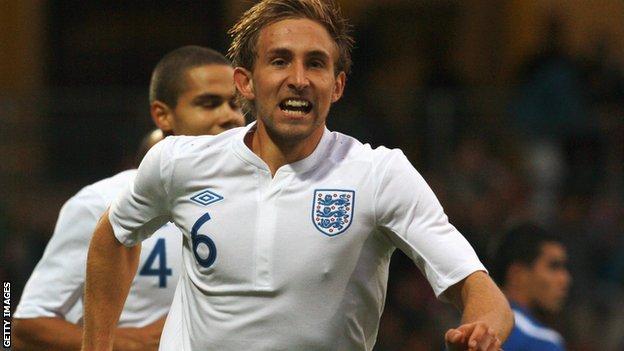 Team GB defender Craig Dawson was collecting glasses in his local pub five years ago, his only game of football being a kickabout with his mates every Saturday.
Now, the 22-year-old West Brom defender has a chance of winning an Olympic gold medal with Team GB at London 2012.
And the man who realised his potential, Bernard Manning Jr, the son of the famous late comedian, admits the player could have been lost to the game had it not been for his intervention.
Manning, the majority shareholder at Northern Premier League Division One North side Radcliffe Borough, knew Dawson because his son, Ben, grew up playing in the same football teams.
And, when it appeared Dawson had given up on his dream as a professional footballer, Manning needed all his powers of persuasion to get him back on the footballing ladder, which has since seen him rise to the Premier League.
"Craig used to work in my local pub and I would go in every week and tell him that he shouldn't be collecting glasses - he should be a professional footballer," said Manning.
"He had given up on the football dream - like many kids, it seems like the end of the road when they outgrow their childhood team at 16 and everyone goes their separate ways.
"He was playing for a team called Rochdale St Clements with his mates. I told him he was better than that and he should be earning a few quid. He used to laugh when I said things like that.
"He used to say 'do you really think I am good enough?' until I ended up throwing him in the back of the car to get him to training at Radcliffe."
Little did Dawson know, but his footballing career was about to take off once he started training with Radcliffe, under the watchful eye of their head coach Kevin Glendon.
But it took a change of position for Dawson to realise his enormous potential.
"Craig was a midfielder as a kid," recalled Manning. "He was a strong lad, who scored lots of goals with a long-distance shot and he would win headers from corners.
"However, Kevin thought he was better playing from the back, with the game in front of him, and he fitted in really well there.
"He was only young but he played like a man. He was very strong, nothing ever fazed him and he was always up for the challenge.
"His first game for us was against Salford in a friendly and he made a crunching tackle on the halfway line. He was only 16 at the time, but he won the ball cleanly and timed the challenge to perfection.
"I remember Kevin turning around to look at me and saying 'that was something else'.
"He took to it like a duck to water."
Dawson built a reputation as a no-nonsense defender who chipped in with plenty of goals at Radcliffe and he got his dream move in February 2009 when his hometown team, Rochdale, signed him on a professional contract.
His remarkable progress continued at Spotland, where he scored 11 goals from centre-back as Rochdale were promoted for the first time in 41 years in the 2009-10 season.
West Brom signed him for an undisclosed fee in August 2010, before he was loaned back to the Lancashire club. He has since gone on to make eight Premier League appearances for the Baggies and has scored four goals in seven appearances for England Under-21s under Team GB manager Stuart Pearce.
"He has done remarkably well and he has a bright future in the game," said Manning.
"Manchester City took him on trial while he was with us, Tottenham were interested, Blackburn came down and we had an offer from Crewe, which was better than Rochdale's, but Craig wanted to go to Rochdale because it was his hometown team.
"We took less money because we wanted to see the lad move on with his football.
"I did not think the Premier League was his level, but I always believed he could make it in the lower leagues at Bury, Oldham and Rochdale level.
"He has gone and achieved it all through his own hard work and talent. He has got a chance in the next two years to really kick on and become a good footballer for years to come.
"And the good thing about Craig is that he still remembers where he came from. He sponsored our pre-season game against Rochdale, which was a lovely touch and shows what a great young man he is."