Phillips Idowu, Team GB triple jumper, denies injury reports
Last updated on .From the section Olympics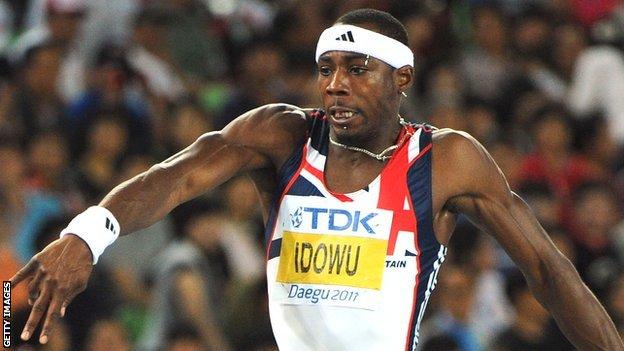 Team GB Olympic triple jump gold medal hope Phillips Idowu has denied he is carrying an injury ahead of this summer's Games in London.
It had been reported that the 33-year-old injured his foot at the Diamond League meeting in Eugene last month.
But Idowu told BBC Sport he withdrew from the event in Oregon as a precaution because of wet conditions.
"I've not commented on it and have kept my head down and focused on working and preparing for the Games," said Idowu.
"I understand why it was assumed [I was injured] because I withdrew from the competition in Eugene in the third round.
"But I withdrew from that competition because it was raining, it was wet and cold and I slipped on the board in my third attempt and I didn't want to risk my chances for the Games by trying to win that competition and picking up any injury to myself.
"I was shocked when I read the article, but I had nothing to say so I let the rumour mill stir."
Idowu missed out on gold at the Beijing games, instead taking silver after being out-jumped by Portugal's Nelson Evora. He also won silver at last year's World Championships.
He has competed just three times this year and was given a discretionary place in Team GB for the Games - but he believes his lack of action has helped his preparation.
"This year I've been able to focus on training. For the last 30 days I've worked really, really hard. I'm pleased with the work I've done and impressed with how hard I've worked. I'm happy and optimistic."
Idowu also pulled out of the Olympic trials in Birmingham in June, attending the Radio 1's Big Weekend in Hackney as an ambassador instead.
"We decided to withdraw from the trials purely as a precaution because the work load I had been doing since Eugene was quite heavy," admitted Idowu, who will compete at this weekend's Diamond League meeting at Crystal Palace.
"At that time I wasn't physically in any kind of shape to go out and do myself justice. Physically and mentally I was drained. And again, I didn't want to risk any injury."
Idowu is predicting a close competition at the Games, despite the absence of a number of his rivals, including world indoor triple jump champion Teddy Tamgho of France, who has an ankle injury.
"Any of the 12 men in the final will be a threat," added Idowu. "Christian Taylor [American reigning world champion] is a massively talented athlete, as well as his compatriot Will Clare.
"I went into Beijing as favourite. I was ranked number one in the world and had been pretty much that whole season. I put in a good performance and jumped a season's best but I was just beaten by a better athlete on the day.
"At the time I was upset and disappointed but a great reception from the British public helped me feel better. The medal spurred me on and I went on to win a World [2009] and European [2010] title. My ultimate goal has always been to come back and upgrade that silver medal to a gold."