Adam Gemili: From football's 'Road Runner' to GB sprinting star
Last updated on .From the section Olympics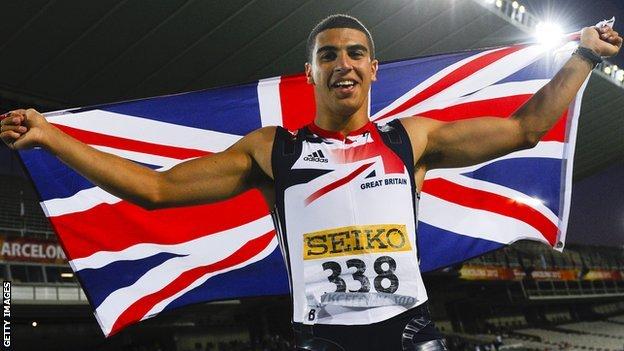 Until 15 months ago, a career in athletics was not on the agenda for Adam Gemili.
Like so many youngsters growing up, he dreamed only of becoming a professional footballer.
He spent time on the books of Chelsea as a schoolboy and was on the verge of earning a professional deal as late as January this year at League Two side Dagenham & Redbridge.
But a trip to local athletics club Blackheath and Bromley to develop his pace - the one attribute that already set him apart from other aspiring footballers - changed everything.
This week he became the fastest 100m sprinter in World Junior Championship history, and he could find himself racing against the likes of Usain Bolt, Asafa Powell and Tyson Gay at London 2012 next month.
Gemili owes much to the Blackheath coaches who realised he had raw talent and encouraged him to race competitively.
In his first meeting for the club in April 2011, Gemili astounded everyone by running below 11 seconds - the only athlete to do so at the event.
Such pace without any formal training was impressive to experienced athletes, and in football it made Gemili unique. During a loan spell with Thurrock towards the end of last year it earned him the nickname 'Road Runner'.
"He was very quick," Wayne Burnett, first team coach at Dagenham & Redbridge, told BBC Sport.
"Technically he was okay and tactically he was just starting to understand the game, but his obvious main attribute was that he was extremely quick.
"He had a really good opportunity to make it as a footballer but he has chosen the direction of a runner and he has done incredibly well."
From the age of eight, everything seemed geared towards a career in football for Gemili.
His promise was spotted by Chelsea and he was invited to join the Premier League club's academy.
Gemili's stay at Stamford Bridge lasted seven years, but the regular commute from his family home in Dartford - a three-hour round trip - was hampering his school studies and, at 15, he made the difficult decision to quit.
A move to Reading proved more conducive with his studies and he left school with a handful of GCSE A*s and an A in Japanese.
Safeguarding his long-term future remained a priority for Gemili, who studied for a BTEC diploma in sport at Barking and Dagenham College while maintaining his interest in football with a switch to local club Dagenham.
"Adam was a fantastic lad for us," said Burnett. "He was very, very dedicated, disciplined and a gentleman.
"Like any young man, he was still learning the game but he was a quick learner and he picked things up very quickly."
While pace is often seen as an important attribute for a striker or winger, Gemili was utilised at right-back, a position where Dagenham felt he had the best chance of making the professional grade.
"We tried him out wide but we felt he was better in a deeper position," added Burnett.
"He could see the whole play in front of him but he could also cover very quickly and get forward very quickly.
"He would make some unbelievable runs from deep which would catch the opposition unexpectedly. It was a real weapon."
Although Gemili knew he possessed something that set him apart, his interest in athletics remained a passing one.
He joined Blackheath and Bromley Athletics Club in 2010 solely to hone his sprinting skills during pre-season and give himself a better chance of becoming a professional footballer.
His coaches invited Gemili to race for his new club in the Sward & Kinnaird Trophy meeting at Kingston in April last year, his first taste of competing against experienced athletes.
"You could see he was slightly nervous in his first race but he just went out and beat everybody in both the 100m and 200m," said senior men's team manager Patrick Calnan. "That seems to be the story of his fledgling career so far."
Not only did Gemili dominate, he did so in style, running the only sub-11secs time at the event as he clocked 10.73.
In June 2011, with the football season over, he was able to focus on athletics and, in his first competitive league meeting, he ran 10.45 to seal his qualification for the European Junior Championships in Estonia the following month.
In what was his first major competition, he won silver in the 100m ahead of British number one David Bolarinwa.
Recognising that athletics might be a viable career path, Gemili enlisted the services of the experienced Michael Afilaka, a coach of former world indoor silver medallist and 2008 Olympic finalist Jeanette Kwakye - although running once again took a back seat when the football season started in August.
Having impressed at academy and reserve level for Dagenham, Gemili was sent out on loan to non-league Thurrock to gain first-team experience.
"When he first came to us and he said he was competing in athletics as well, I don't think anyone believed him," said Thurrock chairman Tommy South.
"But he showed us him finishing second in the European Championships on his phone and from then on we called him 'Road Runner'.
"He was very fast but he could also be a bit unpredictable. We played West Ham in a game and he knocked the ball past their full-back but kept on running. Our manager turned to me and said, 'we better shut the gates otherwise he'll keep running onto the M25!'
"The opposition didn't know what to do with him and just tried to kick him."
After three months at Thurrock, Gemili faced a potentially career-defining decision when he was offered a professional contract with Dagenham.
A full-time contract was something Gemili had worked towards since taking his first steps with Chelsea, but success on the track at the European Junior Championships had whet his appetite for what could be achieved in athletics.
"If I signed, it meant I had to stop athletics because I couldn't do both, but I wanted to give athletics a go," Gemili said in a recent interview with the Telegraph.
"I'd won the European junior silver in the summer, so I did want to see how far I could take it and how good I could become in athletics."
It is a decision that so far seems vindicated.