Katarina Johnson-Thompson wins world junior long jump gold
Last updated on .From the section Olympics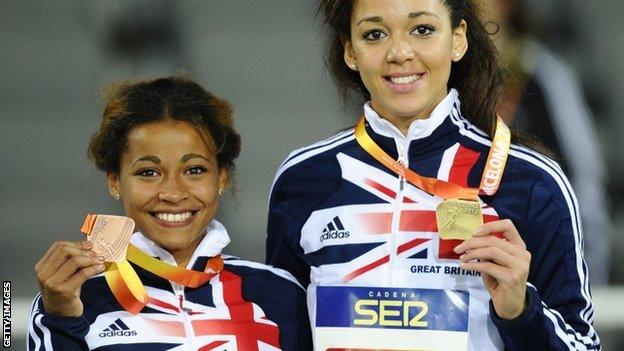 Katarina Johnson-Thompson won gold and fellow Briton Jazmin Sawyers bronze in the long jump at the World Junior Championships in Barcelona.
Johnson-Thompson, who will compete in the heptathlon at London 2012, won with a leap of 6.81m, one centimetre better than Germany's Lena Malkus.
Sawyers, 18, recorded a leap of 6.67 to seal her place on the podium.
Johnson-Thompson, 19, matches the achievement of Adam Gemili, who won the 100m on Wednesday.
Johnson-Thompson also broke Jess Ennis's British junior record for the heptathlon in May.
BBC Sport athletics statistician Mark Butler said: "It's another fantastic gold medal for the British junior team and all the more exciting because the winner is a heptathlon specialist.
"Her 6.81 can't count for record purposes at is was wind-assisted, as was the 6.80 of Malkus. But that means that the 6.67 recorded by Jazmin Sawyers is the longest legal jump by a junior in the world this year.
"Not a bad day for British long jumping - a world gold and a world lead."