London 2012: GB basketball claim second win over Portugal
Last updated on .From the section Olympics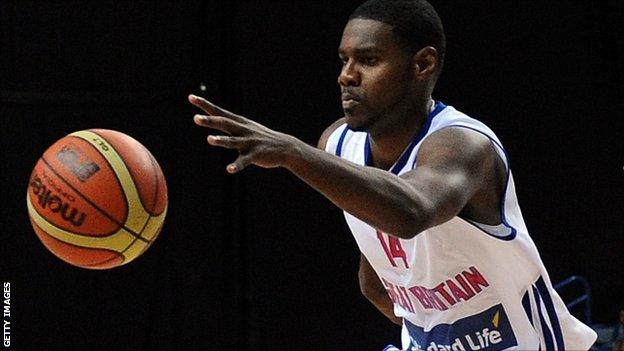 Great Britain cruised to a second straight victory over Portugal in as many days as they continued their Olympic preparations in Sheffield.
After Saturday's win, GB turned in a more rounded performance winning 86-66 with big contributions off the bench.
Kyle Johnson finished as the leading scorer for GB with 21 points, while Luol Deng had 14 and Eric Boateng 11. Joao Gomes scored 16 for Portugal.
GB now have three more warm-up games against America, Tunisia and Belgium.
"It was a far better performance," said GB coach Chris Finch.
"This was a continuation of the second half from Saturday. We just kept building on that and today we played outstanding for four quarters.
"Everybody really made a positive contribution to the game.
"We got a lot of energy from the bench. We have depth but we don't always have consistency from the bench, but tonight it was very good."
Johnson made his first seven field-goal attempts, including three big three-pointers, and finished eight out of 10 efforts from the field.
"I think that's my job on this team," the 23-year-old said. "I need to come off the bench and provide that energy. I think I did that today.
"Portugal were leaving me a little bit open but it felt good to knock those shots down. Credit to my team-mates for getting me open."