London 2012: GB basketball women beat France
Last updated on .From the section Olympics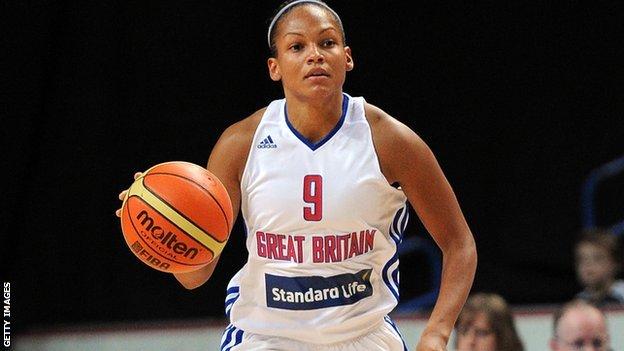 Great Britain's women enjoyed a huge confidence boost ahead of the Olympics with victory over France - ranked eighth in the world - in Sheffield.
Jo Leedham scored 23 points, Natalie Stafford contributed 18 and Julie Page added nine and grabbed eight rebounds.
Jeneya Wade-Fray gave her side a lift with a shot from halfway on the third-quarter buzzer that cut the deficit.
Britain, who beat Angola in their first Olympic warm-up match last week, will face France again in their penultimate group game at the Olympics along with Australia, Brazil, Russia and Canada.
"Two years ago, nobody in the basketball world would have said there was a snowflake in hell's chance of that happening, so it's been amazing," said coach Tom Maher after his 50th game in charge.
"Defensively we didn't get it done against Angola, and we didn't get it done against Australia. I know Australia are tough but we still want to be able to do what we're capable of doing.
"Today, we struggled in the first half but in the second half we came out and we were proactive defensively. Our interior defence picked up and that's hugely rewarding for us because we've spent a lot of time on it."
Guard Stef Collins said: "It's always tough when you've not played a team like France before because you hear a lot about reputations and then you expect so much.
"But you see in a game like today that if we bring the right amount of energy, the right amount of heart and the right amount of effort we can beat teams even if they are more physical, taller, bigger and stronger than us."
Sandrine Gruda led France with 17 points, Celine Dumerc had 13 and Isabelle Yacoubou 11.