London 2012: Crista Cullen says home boost could bring gold
Last updated on .From the section Olympics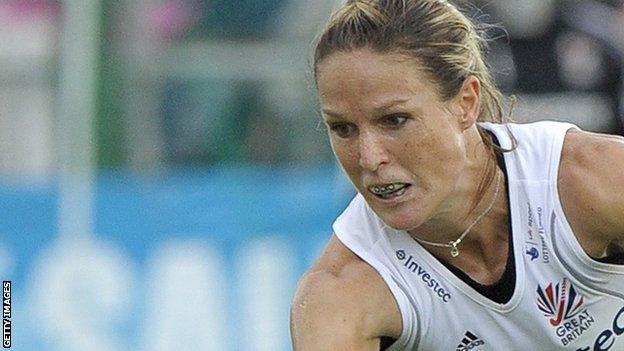 Crista Cullen says home advantage could be the telling factor for the Team GB Ladies hockey team as they look to win Olympic gold at London 2012.
Cullen is part of a squad who have risen to fourth in the world rankings and are widely tipped to win a medal.
"There is expectations and there will be big crowds, but I can think of no better team I'd like to line up next to," Cullen told BBC Radio Leicester.
"We are capable of gold. There is no getting away from that."
The Boston-born star was injured at the Olympic 2012 test event in May and missed the Investec London Cup in June.
But she has been back in full training for more than three weeks and says she "feels fine" and is "more than happy on it".
Her swift recovery means the only thing that is now on her mind is the quest for Olympic gold - and doing all she can to help her less experienced team-mates realise that dream.
Team GB's opening game sees them take on Japan on Sunday, 29 July.
"There will obviously be nerves and if there wasn't, I would be concerned," said Cullen, one of four Leicester Ladies stars in the 16-strong squad.
"We have to get people on the ball relatively quickly, try to get people settled. We have to make sure people are happy enough to show up for the ball and want the ball."
Cullen said the progress the team have made means they have every right to feel confident.
She said: "The way this team have conducted themselves and where we have come from in the last four years from eighth in the world to fourth in the world means we are genuine medal contenders."
And their efforts at the Champions Trophy in February, where the top eight teams in the world played and GB lost 1-0 to Argentina in the final, are also reason for optimism.
Cullen added: "They had the home crowd to their advantage. Let's flip that around and suddenly, we have 16,000 shouting for Great Britain, maybe that might be the 1-0 difference that we need."