London 2012: Cuban boxers hope to strike Olympic gold
By Sarah Rainsford
BBC News, Havana
Last updated on .From the section Olympics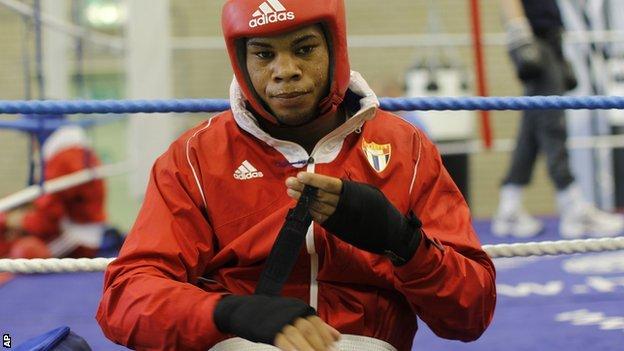 The small Caribbean island of Cuba packs a big punch in boxing.
The country has notched-up 32 Olympic gold medals in the ring and would likely have won more if it had not boycotted two Games. Former champions like the late Teofilo Stevenson have become household names worldwide.
So its current crop of fighters don't appear to have anything to prove.
But they are convinced they do.
For Cuba, the London Olympics are about staging a comeback after the bitter disappointment of Beijing. Its boxers won eight medals at the 2008 Games, a tally most countries would be proud of. But for the first time since 1972 there was no gold.
There was a good reason for that. In the run-up to Beijing, five of Cuba's best boxers defected to turn professional.
So this year the Cubans are determined to reassert themselves.
"Everyone is ready to do better than last time and to get gold," Cuban light-heavyweight Julio Cesar la Cruz explained during a training session in Havana, shortly before heading to the UK.
"I think we can beat our last result. That's why we've been training so hard," he said, as sweat slipped down his forehead in the stuffy gym.
Already world amateur champion, Cruz (81 kg) is Cuba's greatest hope for London. He missed the last Olympics through injury but his trainers say he is fighting fit now.
Roniel Iglesias, who won bronze in Beijing, is also eyeing gold this time, while eight boxers have qualified in all.
"They are the new generation who are going to bring back gold," said Raul Fernandez. He has been training Cuba's top boxers for three decades, including the last Olympic team that was decimated by defections.
"That affected us, you can see it in the results. It's no secret. Some of our medal favourites left and we had to substitute them so we weren't properly prepared.
"But we got eight medals. No other team got that."
Cuba scouts for boxing talent very young - boys face their first competitive fight at just nine years old - and the intense training is free.
It is all amateur. Professional sport was banned by the revolution as corrupting and athletes earn small state salaries. They are taught to fight for the love of it - and for their country - not financial reward.
But the allure of fame and fortune overseas can prove irresistible.
This month, the vice-president of Cuba's sporting body, INDER, revealed that 27 athletes defected in the past two years from 16 difference disciplines. Jorge Polo called that a "defeat" and described this Olympic cycle as "the most difficult since the revolution".
This time, though, the boxing team has reached the Olympics intact.
The boxers performed well at the World Championship and Pan American Games and their trainers see an upward trajectory.
"We've recovered the discipline," explained the president of Cuba's Boxing Federation, Alberto Puig, in the grounds of the national boxing school where fighters live and train at least six hours a day.
The paint is peeling from the gym walls and the windows are missing panes of glass, but the punch bags and boxing gloves are new.
"A team can be physically or tactically prepared, but strength of heart is worth a fistful of medals, Puig said. "Our boxers are committed to bringing back gold for their families and their country."
That psychological training starts well before a fighter reaches Olympic level.
Across town, the gym at Havana's youth boxing academy is daubed with revolutionary slogans alongside impressively long lists of Cuban champions.
In the ring, teenage boys slug it out as their trainer dances around them. Outside the ring, his job is to pass on Cuba's sporting ethos.
"All those lads who leave may have money, but they won't have their family," said Umberto Orta, explaining a key argument against defection.
He also says boxers' wages have increased over the years. Medal winners can earn up to 300 dollars (£190) a month and usually get a car and a flat, too.
"It's a lot for Cuba," Orta argued, as the average monthly income is under 20 dollars (£13). "I don't think we have any boxers now who will desert. We've worked hard on that."
Failing that, Cuba always has plenty of talent coming up through the ranks. Those in charge say there are around 100,000 people boxing in Cuba, for every one of the 34 in elite training.
But preparing them for the ultimate, Olympic test takes time as Cuba's boxers learned in China.
Four years on, the new squad are sure they're ready.
They are heading to London to wipeout memories of Beijing, go for gold and - crucially - return with those medals to their country.