London 2012: F1 track plan among Olympic Stadium bids
Last updated on .From the section Olympics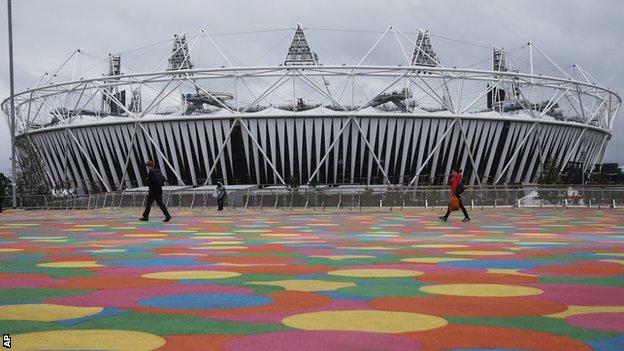 A scheme to turn the Olympic Stadium into part of a Formula 1 track after the London 2012 Games is one of four now under official consideration.
Football clubs West Ham and Leyton Orient are bidding to be tenants, as is the UCFB College of Football Business.
An original deal for West Ham to lease the £486m stadium was scrapped last year amid legal wrangling.
The London Legacy Development Corporation (LLDC) said bids will be assessed before any negotiations begin.
Plans for a grand prix circuit were tabled by Intelligent Transport Services, in conjunction with F1, according to the corporation.
F1 chief Bernie Ecclestone told Reuters: "If they were to get permission to do it, then we would be more than happy to do something with them. But we have nothing to do with putting in a bid."
The proposal would reportedly allow another British round of the world championship in and around the stadium in East London.
UCFB, which offers degrees in football business, is based at Burnley FC's Turf Moor ground and is an affiliate of Bucks New University.
It is understood Orient's proposal is based on a ground share with West Ham, although the Premier League club has insisted it is not considering that arrangement.
Asked on Twitter if the Hammers were looking at a ground share with any club in the future, co-chairman David Gold replied: "Absolutely not."
Ecclestone said last month that he had been consulted by the Intelligent Transport Services company about plans to use the stadium for a race.
He told the Daily Telegraph: "This is a firm that happened to be bidding for use of the stadium, not to own it. They came up with a scheme whereby Formula 1 would race around the stadium, inside it, outside it. They wanted to make sure I would be interested."
Ecclestone has separately said that plans for a race on a 3.15 mile (5.1 km) London circuit taking in sights including Buckingham Palace, Big Ben and Trafalgar Square were "no joke".
Orient chairman Barry Hearn refused to comment on a possible ground share, but told BBC Sport he hoped the League One club's bid could succeed.
"There is no point dwelling on the design of the stadium and the faults of the stadium," he said.
"We have to get on with it, we have to make a fist of it and we have to make sure the Government and the people of this country get maximum value for the investment that has gone into the Olympic Stadium.
"Our idea does that and I think it forms part of a legacy that people in this country can be proud of. Bearing in mind this is the only time in our lifetime that we are ever going to hold the Olympic Games, we need to get something out of it.
"A mixture of usages and a mixture of opportunity within the Olympic Stadium will give us the feeling that we have spent our money wisely and that is really what we are trying to achieve. All sides have to exercise common sense and move forward. I think we have created a very interesting scheme that can do just that."
Essex County Cricket Club has dropped plans for tenancy at the stadium after its partner, the University of London, pulled out of the process.
It has already been announced the 80,000-capacity Olympic Stadium will be reduced after the Games to a 60,000 venue, which retains a running track, and will host the 2017 World Athletics Championships.
The LLDC says it is possible more than one bidder could be successful, with a decision expected in the autumn.
Meanwhile, preferred bidder status has been granted to iCITY for the Olympic press and broadcast centres.
It wants to them into a design, technology and research base that might create more than 4,000 jobs. The scheme includes a conference centre, pedestrian square, cafes, restaurants and bars.