London 2012: Adam Gemili aims to break 10-second barrier
Last updated on .From the section Olympics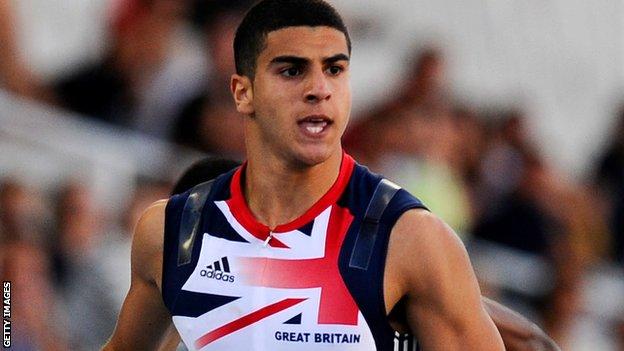 Adam Gemili believes he is close to breaking the 10-second barrier and hopes to achieve that feat at the Olympics.
"I will go [to the Olympics] and execute my race plan and, if I do that, hopefully the time will come," Gemili said.
"If it doesn't then it is not to be but it is close to coming hopefully."
Only a handful of teenagers have managed to run under 10 seconds and Gemili is under no illusions as to how difficult it will be to break that barrier.
"It is not easy at all," he added. "The work we put in just to run [10.05] is unbelievable.
"To get it down even more and run these times week in and week out is unbelievably hard, but that is what this sport is; it is won and lost in tenths of a second."
Gemili has only been training as an athlete full-time for a few months, having spent the last couple of years with Dagenham & Redbridge as he tried to forge a career as a professional footballer.
But his swift rise to recognition has earned plenty of praise in his fledgling career, with American sprinter Tyson Gay, the second fastest man in history, saying he has the potential become an "all-time great".
Gemili could be competing against world record holder Usain Bolt and Yohan Blake in London and though the teenager is keeping his expectations in check, he feels the experience of racing against such established athletes can only improve him.
"Running against the calibre of the athletes that I will be running against at the Olympics I hope will up my game to perform with them and they would pull me to a quicker time," he said.
"It is still about executing the race properly and going through the stages of the race."
Whatever happens at the Olympics, Gemili says he has no plans to return to playing football anytime soon, although would not rule out that changing in the future.
He said: "I would not say [playing football] is completely over but for this year, and potentially the next couple of years, it is.
"How I am going at the moment means it doesn't look like I will be going back anytime soon."