London 2012: Adam Gemili should just enjoy Olympics - Cram

By Steve Cram
BBC athletics commentator
Last updated on .From the section Olympics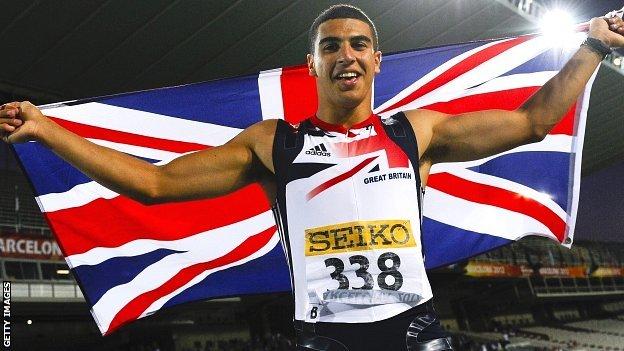 It will be difficult to stop people talking about Adam Gemili at London 2012, which is testament to everything he has already done in his short career.
The reality is though that he is not going to win a medal or cause any upsets - it just doesn't work like that.
Instead he should observe and learn as much as he can and try to feel as comfortable as possible in that environment.
He will be rubbing shoulders with the likes of world record holder Usain Bolt, world champion Yohan Blake and former world champion Tyson Gay of the USA. He has to keep his eyes open to see what they do and how they handle themselves.
Gemili has already had a lot of exposure and, I know from when I went to my first Olympics in Moscow 1980 as 19-year-old, at first it all seems great.
But it doesn't take long before the next interview or press conference becomes a chore.
When he comes off the track after the heats at London 2012, he will be faced with an enormous mixed zone of reporters from all around the world wanting a piece of his time.
Does he want to spend an hour in there because he wants to come across as a nice guy? Does he want to do just the British press? Or does he do what his coach is telling him and get off that track as soon as possible to warm down?
People don't realise, but coping with those situations is all part and parcel of the Games.
When I was in Moscow it was at the time that Steve Ovett and Sebastian Coe were under the most intense scrutiny from media all around the world.
Journalists at that time could get a lot closer to the athletes, right into the canteen where we ate.
Ovett had had a few run-ins with the press and so was wandering round the village with dark glasses, a hat and all the rest, while Coe, at least until he lost the 800m, was a little more open.
I definitely learned a lot from how each of them handled all of that.
Gemili may well come back in the future with similar pressure to perform, so if he has the chance to enjoy a Games without it that is brilliant.
On the track he will be wearing a Great Britain vest, the crowd will love him and he will have everyone behind him. In that sense he can't fail, he just has to run the best that he can.
I don't think all the sudden media attention is anything to worry about.
If that is going to stop you then it probably means there is something wrong deeper in your psychological make-up anyway and and he certainly looks like he is dealing with it very well.
Instead what will decide if he develops into a serious medal contender at major championships is how he develops as an athlete, because everyone is different.
Bolt won the 200m at the World Junior Championships in 2002 as a 15-year-old before he went to the Athens Olympics as a teenager two years later.
After that, as far as the world's media were concerned, he disappeared before re-emerging in such astonishing form in 2007.
Of course he hadn't disappeared.
He was developing, turning into a man and his body was strengthening to cope with the demands that his training was placing on it.
We get so excited in Britain each time another youngster emerges, because we have had such little sprint talent and if they don't measure up we very quickly write them off again.
The main thing Gemili needs is just the time to carry on developing into the great athlete I think he will be.
French European record-holder Christophe Lemaitre has done very well, gradually nibbling down his personal best to 9.92 seconds and his example is one that Gemili may want to follow.
But at the end of the day you do not go from the 10.05 seconds that he ran in Barcelona to Blake's world-leading 9.75 seconds straight away.
It is little tiny increments and lots of hard work and you have to accept that.