London 2012: Team GB stars say facilities boosted by Olympics
By Saj Chowdhury
BBC Sport
Last updated on .From the section Olympics213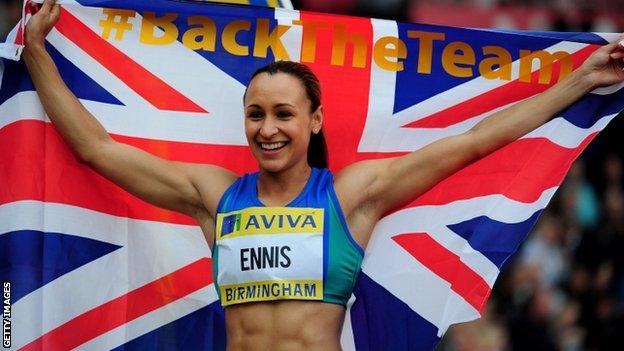 Almost two thirds of Team GB's athletes believe facilities for Olympic sports in the UK have improved as a result of London 2012.
Of the 273 athletes interviewed in a BBC Sport website survey, 163 (59.7%) were adamant it had had a positive impact on facilities where they live.
Eighty five per cent also said interest in their sports would grow beyond 2012.
And many of the squad believe the team will achieve their highest position in the Olympic medal table for 92 years.
Of the 165 athletes who gave a prediction, 61% said Team GB would finish third or higher - they have not finished better than fourth since Antwerp 1920.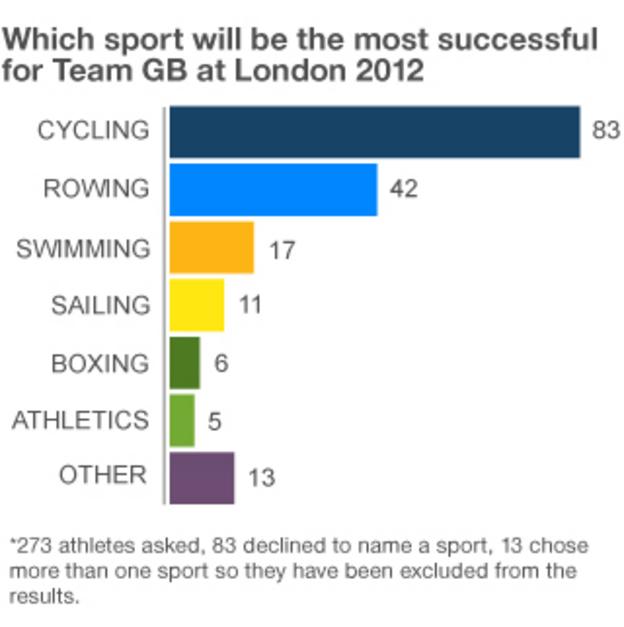 There were 108 athletes who chose not to predict a position for Team GB.
Beijing 2008 diver Tom Daley said the team would finish third, while lightweight boxer Josh Taylor and road cyclist Lizzie Armitstead were two of the optimistic 26 who thought that Britain would top the table.
"I think with everything we've put into it, it'll be our best games yet," said women's volleyball player Grace Carter.
"I reckon it'll be a challenge, but we'll achieve top three for sure."
Women's handball player Holly Lam-Moores added: "I think we'll do extremely well, and with home advantage I think we can finish first."
There was more optimism regarding their own individual performances with more than 99% hopeful of producing their best form in London.
UK Sport, the high-performance sports agency which has invested £300m in Olympic and Paralympic sport during the past four years, set the target of a top-four spot at this Olympics.
Team GB won 47 medals at the Beijing Games four years ago and UK Sport wants a minimum of 48 medals from at least 12 sports from the home Games.
UK Sport chief executive Liz Nicholl told BBC Sport she was delighted with the athletes' positivity and that Olympic sport in Great Britain was "in a good place".
"There is better potential [compared to Beijing] in this team if all goes well as it could," said Nicholl.
"We're in a good place. There's real fervour in sport at the moment and the athletes are keen to make the most of what is a unique occasion.
"It will hopefully have an impact of getting more people involved in sport in Britain.
"I think the greatest thing about London 2012 is our hope for shared success - more medals across more sports."
UK Sport predominantly deals with funding for athletes and coaches, while the improvement and development of facilities is partly under the jurisdiction of the national public sporting bodies of England, Northern Ireland, Wales and Scotland.
Sport England has invested £1.5bn of government and National Lottery funding into grassroots sport since London won the right to host the Games in July 2005.
The body invested £900,000 in the Lee Valley White Water Centre used by canoeists (opened 2012), while £3m helped to fund the National Indoor BMX Arena in Manchester, which opened in 2011.
"It's fantastic see so many athletes highlight the positive impact the Games are having on local sports facilities," said Jennie Price, chief executive of Sport England.
"With over 15m people in England now playing sport every week, and an extra £150m being invested by Sport England to improve facilities further, the Games provides a great opportunity to get even more people involved."
Sports such as hockey, volleyball and swimming have also benefited, while there has been a rise in the number of Olympic-sized pools in the seven years since London was awarded the Games.
"When I was younger the closest 50m pool to Durham was Leeds," said former Chester-le-Street club swimmer Steph Proud.
"Now there's one in Sunderland which has great facilities. I race there and race pretty fast. It's great for north-east sport."
World champion cyclist Laura Trott said facilities in her area had also seen improvements in the past few years.
"Where I first started cycling [at Gosling Sports Park in Welwyn Garden City] there used to be kids throwing rocks at me, it was terrible," said the 20-year-old.
"Now we have got a fence and everything."
Only 33 athletes believed the Games have made no difference, while the remainder were either unsure or had little or no knowledge of improvements.
Regarding legacy, the percentage was higher. Many stated that interest in their respective sports had already started growing and that it was likely to continue.
"Water polo in Britain run mini-polo which is for young kids, which is a fun version of the game, and that's seen a real increase," said 33-year-old Team GB water-polo captain Craig Figes.
But not all British Olympians were as optimistic about the future of their sport.
"I wouldn't have thought there would be a large spike after the Games," said 40-year-old south Wales-based shooter Elena Allen.
"The cost of shooting is so high, which it wasn't four years ago. That will put people off."
The athletes in the survey also gave their verdicts on which sport would be the most successful for Team GB at London 2012.
Of the 273 asked, 83 declined to answer the question, while 13 chose more than one sport.
Of the 177 who picked out a single sport, they gave their answers based on medal totals and/or overall performance.
Cycling came out top with 46.8% ahead of rowing, which was second most popular with 23.7%. Swimming, sailing, boxing and athletics followed, with 13 of the 177 naming other sports.
Additional reporting by Ollie Williams, Jessica Creighton and Mike Henson