London 2012: Anna Bentley braced to face GB team-mate
Last updated on .From the section Olympics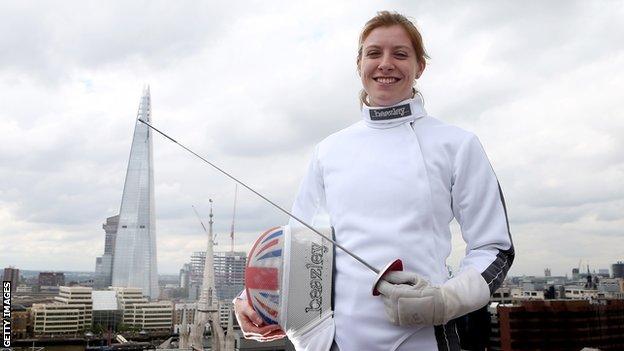 Anna Bentley is bracing herself for the prospect of facing British team-mate Natalia Sheppard in the London Olympics fencing competition.
The 31-year-old from Norwich will face either Sheppard or Canada's Monica Peterson in the individual foil event.
"It's just so strange fencing team-mates in any competition because you know each other so well," she told BBC Radio Norfolk.
"Whoever keeps the most calm on the day and is the most focused will win."
The three-times British champion calculated her likely first-round draw by studying the world rankings.
"You can tell one of two (possible) people you are going to fence and then they do a flip of a coin just before the event, so you can't bet or throw matches - it's kept to the last minute before you find out who you're fencing," she explained.
The women's individual foil competition will take place at the ExCel Arena on 28 July, the day after the opening ceremony.
Bentley, Sheppard and Sophie Troiano will then join forces for the team event on 2 August.
"It's going to be amazing, seeing and hearing the crowd.
"There are going to be thousands of people in the ExCel Centre and we're just not used to competing in front of that many people," said Bentley, who bought tickets for the athletics so she could witness the Games first-hand in case she was not selected to take part.
"I'm trying to imagine it and get used to it but ultimately I won't know till the day how I'm going to react.
"I'm just excited and every time I think about it, I'm interpreting everything positively, so I think it's a good thing."