London 2012: Simon Terry targets success at third Games
Last updated on .From the section Olympics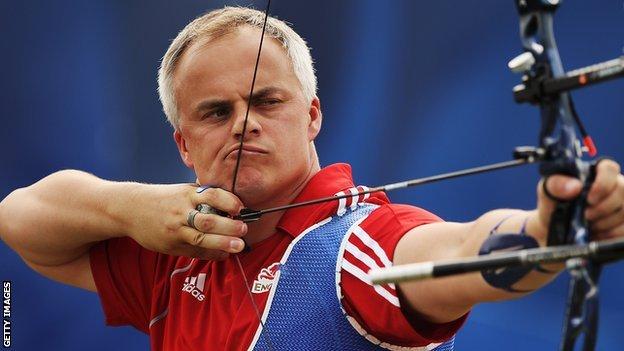 Team GB Olympic archer Simon Terry says that an advert in a local newspaper encouraged him to rediscover the sport he had quit in 1994.
The 38-year-old will compete in his third Games this summer, having won two bronze medals in Barcelona in 1992 and having been involved in Beijing four years ago.
"I was about 20 and I'd had enough," Terry told BBC Radio Lincolnshire.
"My enthusiasm dipped and it was 10 years before I started up again."
Terry continued: "There was a bit in the Grantham Journal about the Grantham Archery Club. It was a few months before I finally got round to making the call and off I went."
His exit from the sport came after he became the first Briton in 84 years to win an Olympic archery medal in individual competition, and at the time of his achievement, he was an unemployed roofer.
After 10 years out, his comeback was largely a successful one, with the exception of the 2008 Games. Within a year of his return, he was competing for inclusion in the GB squad. He was sixth in individual recurve at the 2006 European Grand Prix in Italy and eighth in the 2007 Good Luck Beijing test event.
Although Terry was seeded seventh at the Beijing Olympics, he was beaten by Finland's Matti Hatava in the round of 64, and the GB team exited the competition at the first round stage.
He is hoping that competing in London can inspire them to greater successes than they experienced in China.
"The performance wasn't that great and we expected too much," he said. "Hopefully, home advantage will see us in the right direction.
"We had the European Championships in Amsterdam and the Dutch won it. They performed so much better than they have done in the last couple of years. I've seen [home advantage generate better results] so many times now and hopefully it'll be alright for us, too."
Stirling-born Terry is ranked 43rd in the world in individual recurve but he finished sixth at the European Championships and ninth at last month's World Cup event in the USA.
"The team [in the USA] shot very well against the Italians, so it was a bit of revenge for the football," Terry said. "We shot the highest team round of the competition, so hopefully that stands us in good stead for the Olympics.
"The Koreans are always very strong and the Americans have a really strong team. Individually, [world number one] Brady Ellison has been on fire for the last couple of years.
"I've got no idea of our chances. As long as I'm happy with my performance individually, we stand more of a chance of getting something in the team event."