Andy Murray targets Olympic gold at 2012 London Games

By David Ornstein
BBC Sport at Wimbledon
Last updated on .From the section Olympics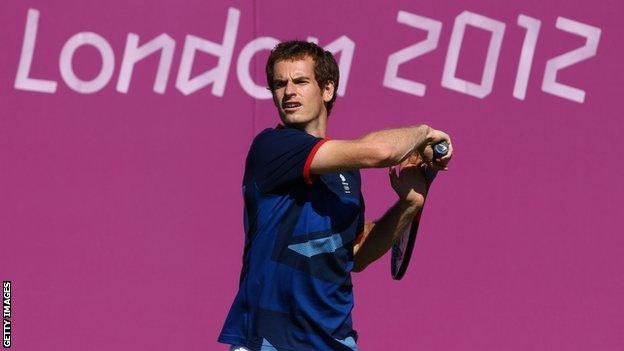 Andy Murray believes he has a strong chance of winning the men's singles gold medal at London 2012 if he recaptures the form that led him to the Wimbledon final.
Murray was runner-up to Roger Federer in the season's third Grand Slam and returns to the All England Club for the Olympic tennis event.
"I want to try and win a gold medal, win the tournament," he said.
"If I play like I did at Wimbledon, I won't be far off."
Murray's projected draw includes Richard Gasquet, Tomas Berdych and Novak Djokovic, before a possible rematch with Federer in the final.
But first up is 26th-ranked Swiss player Stanislas Wawrinka, who won doubles gold with Federer at the 2008 Olympics in Beijing and took Murray to five sets at Wimbledon a year later.
The Scot's route looks hazardous but the same was said at Wimbledon, where after three successive semi-finals he went one better for the first time.
"Everyone said the Wimbledon draw was unbelievably tough so it doesn't make any difference," Murray, who was upset by 77th-ranked Yen-Hsun Lu of Taiwan in round one at the last Games, said.
"You can play the best players in the first round, sometimes draws open up after a couple of rounds or matches you expect to be comfortable aren't.
"The draw was always going to be tough because you've got the best players in the world and only 16 seeds, so you're going to get tough draws early in the tournament."
Murray will contest the men's doubles with his brother Jamie - they start against Austria's Jurgen Melzer and Alexander Peya - and may also feature in the mixed doubles.
"We have four Grand Slams every year, so we'll have 16 Grand Slams before the next Olympics, and that's why you want to try and make the most of it," he explained.
"I've never played doubles in a Grand Slam but this is a once-in-a-lifetime opportunity; to get the chance to play singles and doubles and try to win a medal for your country. It's great."
Having taken five days off after his defeat by Federer, Murray has been back training for two weeks and says he is clear of any injuries or niggles.
He has spent time at the athlete's village on the Olympic Park in Stratford, but will base himself at home in Surrey while involved in the tennis event.
"We stayed in the Olympic village on Tuesday night," he added. "It was cool walking around, just being among all the guys, playing pool, mixing with other athletes, having dinner with them, speaking about different sports and their training and preparations.
"It's such a huge event and there are so many different countries and cultures. I was taking pictures with guys from all over, from Cameroon to China.
"I chatted to a couple of the boxers from the British team, met guys doing horse riding, the handball team. You don't get that at any other event.
"There are so many different people from completely different sports with completely different skills, and having them all in one big village is pretty special."