London 2012: Ashley McKenzie seeks gold after lessons learned
Last updated on .From the section Olympics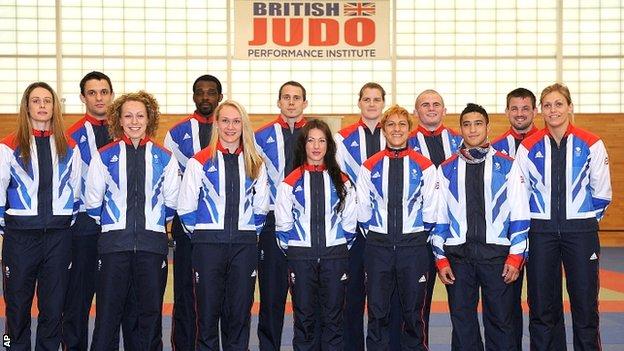 British number one Ashley McKenzie is determined to put problems in his youth firmly behind him when the Olympic judo competition gets under way.
McKenzie, 22, had difficulties at school, was diagnosed with an attention deficit disorder and was banned for six months by GB Judo for indiscipline.
Now the British Open champion at -60kg is targeting gold at London 2012.
"I've overcome bumps, I want gold, no-one is hungrier than me," he told BBC 5 live's London Calling.
"I can honestly say four years ago I never thought I'd be in this position."
McKenzie has already claimed some notable scalps, including Olympic silver medallist and seven-time European medallist Ludwig Paischer and former world and European champion Georgii Zantaraia.
Last year he won the Poland World Cup and the GB World Cup but as he told 5 live, his introduction to judo came in unlikely circumstances.
"Someone threw me, we had a little argument, it was over Pokemon cards," he recalled.
"He took my Pokemon cards and I was not happy about it. I went to scrap him and he flipped me and he flipped me again, I was thinking 'this is not right, I'm a scrapper!'
"I went home and I searched and judo came up, I went to the nearest judo club and I saw him, and I said: 'It was him mum!' he gave me back my Pokemon cards and we became friends and he talked me through judo.
"I was quite naughty, youth offender, the lot, I went to a special school and got excluded over 60 times and it was a turning point in my life when I started getting golds. To me a gold medal when I was 11 was so important, and I just kept bringing them home."
Londoner McKenzie duly progressed to the Great Britain team but his problems resurfaced when he was banned for drinking and misbehaving on GB duty.
"I thought it was going to make me or break me. I trained harder, I got myself up at 6.30 to go for my runs and I changed my life.
"I wanted to make something of myself, I didn't want to be that bad kid who has problems, so I entered the British Open, I'd won it the year before but I wasn't in the squad because I got banned.
"I got gold, it wasn't two fingers up to the squad but it was 'I am the best and for you to get rid of me it's going to take a lot'.
"I'm 22 in the world and anything can happen on the day, I can go out first five, I can win the gold. I've beaten the world champion, the European champion, I can beat the best, I can lose to the worst."
Ashley McKenzie featured in 5 live's London Calling programme and you can listen to it again on the BBC iPlayer.