Olympics beach volleyball: Zara Dampney & Shauna Mullin beaten
Last updated on .From the section Olympics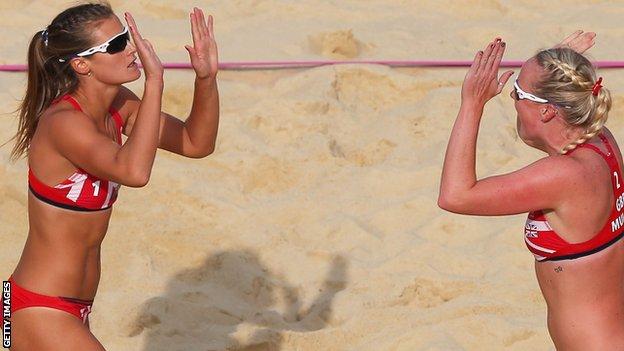 British beach volleyball pair Zara Dampney and Shauna Mullin lost 2-0 to Italians Marta Menegatti and Greta Cicolari in their second Olympic match.
After a tight opening set, which the Italians won 21-18, the second was more one-sided and finished 21-12.
Britain still have a chance of reaching the knockout stages in their final game against Russia on Thursday.
"We'll have done our homework, we'll have a gameplan and we'll come out fighting again," Mullin said.
"If we beat them we'll finish second in our pool."
In the men's event, Brazil's world champion pair Emanuel Rego and Alison Cerutti were impressive in their 2-0 victory against Switzerland's Jefferson Bellaguarda and Patrick Heuscher.
Defending Olympic champions Philip Dalhausser and Todd Rogers, of the United States, came from a set down to win a thrilling tussle with Spanish duo Adrian Collado and Pablo Allepuz.
Latvia's Martins Plavins and Janis Smedins won without dropping a set, as did Netherlands pair Reinder Nummerdor and Rich Schuil.
There were also wins for the Czech Republic's Petr Benes and Premysl Kubala, and Austria's Clemens Doppler and Alexander Horst.
Elsewhere in the women's competition, Spain's Elsa McMillan and Liliana Steiner beat Argentina's Maria Zonta and Ana Gallay 2-0.
That same scoreline was enough for Netherlands duo Sophie van Gestel and Madelein Meppelink, while there were also victories for Brazil's Maria Antonelli and Talita Rocha, Russian duo Evgeniya Ukolova and Ekaterina Khomyakova, and America's April Ross and Jennifer Kessey.