Olympics canoe sprint: GB's Rachel Cawthorn into final
Last updated on .From the section Olympics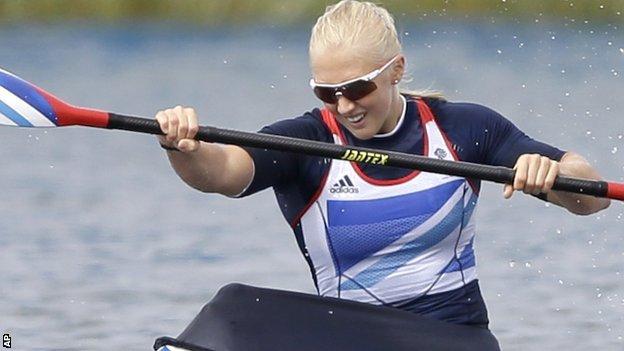 Great Britain's Rachel Cawthorn made it through to Thursday's final of the women's kayak single (K1) 500m.
Cawthorn won her heat and was second in her semi-final to progress through to challenge for a medal at Eton Dorney.
GB's Abi Edmonds and Louisa Sawers did not have the same success in the women's kayak double (K2) 500m.
They sneaked into the semi-final, in which they finished sixth of seven pairs, and failed to make it through to the final.
In the men's competition, heat winners Slovakia and Hungary will be joined by first the six from the semi-final - Australia, Germany, Czech Republic, Russia, Romania, Denmark - for the kayak four (K4) 1000m final.
Germany and Azerbaijan were the heat winners in the men's canoe double (C2) 1000m.
They made it through to the final while Belarus, China, Czech Republic, Cuba, Romania and Russia qualified through the two semi-finals.