London 2012 hurdles: Liu Xiang of China crashes out of Olympics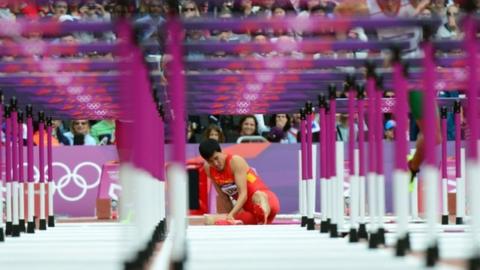 Former champion Liu Xiang's Olympic misery continued when the Chinese athlete crashed at the first barrier in the 110m hurdles heats.
Liu fell before hopping down the track, where he was embraced by his fellow competitors.
The 29-year-old was an icon at the Beijing Games four years ago but managed just a few strides in those heats before pulling up injured.
The former world record holder had suffered injuries going into London.
He had his right Achilles taped before the race.
Feng Shuyong, the head coach of the Chinese athletics team, said: "I feel really sorry about this situation. We think it was like four years ago. The same thing happened again.
"I feel really sad because he has worked very hard to get back to the level he was at before as champion.
"What I saw on the big screen was that he could not take off. I think the problem just happened with that. At the moment of take-off, the tendon would bear very, very big pressure. He could not make the movement.
"Seeing him hopping to the line shows the true spirit of the Olympics. He was still determined to go to the line."
Liu, who won gold in Athens in 2004, had looked like he was returning to his best form at the World Championships in 2011, where he finished second.
Great Britain's Andy Turner, who finished third behind Liu in Daegu, won the heat in 13.42secs before helping the stricken athlete from the track.
Turner said: "I regard him as probably the best hurdler in history and have so much respect for him. It was horrible seeing him limp off like that, so you have to go and help people.
"He's a nice guy and I wouldn't wish that on my worst enemy."
World number one Aries Merritt, from the United States, said: "It's just a tragedy for that to happen to one of the best hurdlers of all time.
"I hope he's OK. He looked fine before the race. He was happy. I don't think anything was wrong, I think he just made a small mistake and when you do that at this speed it's hard to recover."
Britain's Lawrence Clarke joined Turner in qualifying for the semi-finals but Andrew Pozzi was unable to finish his heat, pulling up after 20 metres with a hamstring injury.