Phillips Idowu out of London 2012 Olympics triple jump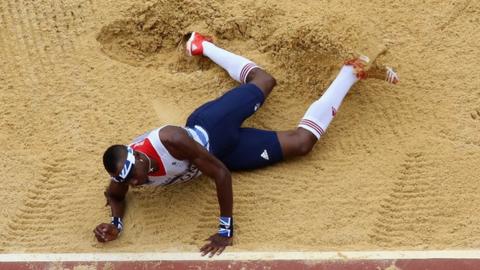 Phillips Idowu has been eliminated from the men's triple jump at London 2012.
Britain's Olympic 2008 silver medallist recorded 16.47m with his first jump before stuttering on his second run-up and registering a no jump.
That left him outside the 12 qualification spots going into his final effort - and a last jump of 16.53m was nine centimetres short.
Idowu, 33, arrived in the Olympic village on Monday after missing Team GB's training camp in Portugal.
"I knew I would be rusty because it's been a while. Conditions were difficult because of the wind and I knew that would be a factor, but that wasn't me out there today," said Idowu. "I've competed for 12 years and I can't remember a time I've performed that badly.
"I'm guessing I will need surgery at the end of this season. I'll call it a day and wrap up the season. I wanted to battle for gold, but now I'll go home and reassess and try not to be down about my performance. It's over and there's nothing I can do.
"The crowd have been great. I'm upset that I let them down. All year I've been tagged as a medal favourite and I haven't got the chance to go out there and do it."
Idowu eventually missed out on the final spot to Dzmitry Platnitski of Belarus, who jumped 16.62m.
Idowu's pre-Games whereabouts had been a concern, with athletics head coach Charles van Commenee, who has had an uneasy relationship with Idowu since the jumper pulled out of last year's European Team Championships, saying his chances of winning a medal had been compromised by "going missing".
Idowu had not jumped since 1 June and pulled out of meetings in Oslo, Paris and London, as well as the Olympic trials in Birmingham.
He looked short of confidence and rhythm during his three jumps and his failure to qualify as he finished in 14th place left the crowd hushed.
American Christian Taylor qualified top with an effort of 17.21m, while Leevan Sands of the Bahamas was second with 17.17m.
Will Claye, who took bronze in the long jump behind Britain's Greg Rutherford and has jumped 17.55m this year, also struggled but the American's final jump of 16.87m was enough for him to qualify in seventh.