Olympics sailing: Ben Ainslie enjoys good Finn class start

By Rob Hodgetts
BBC Sport in Weymouth
Last updated on .From the section Olympics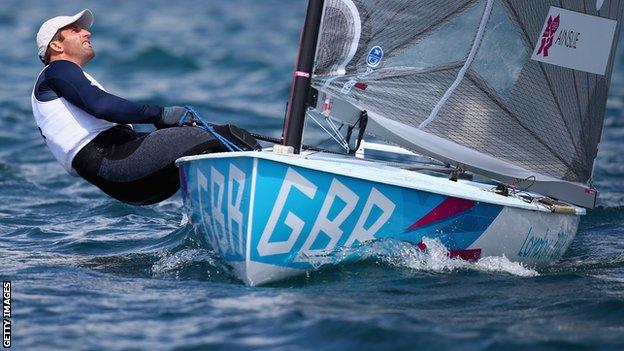 Ben Ainslie kicked off his campaign for a fourth Olympic sailing gold medal with two second places on a sunny, breezy day in Weymouth and Portland.
The Briton trailed Denmark's Jonas Hogh-Christensen in both Finn class races to sit second by two points.
Defending Star champions Iain Percy and Andrew Simpson came 11th and second in their two races, fifth overall.
In the women's match-racing, Lucy Macgregor's British team beat Denmark before losing to Spain.
Ainslie, 35, is aiming to tie Denmark's Paul Elvstrom on four Olympic golds but will become the most decorated Olympic sailor ever with his silver in Atlanta making it five in all.
"He must have had a hotline to Elvstrom," Ainslie told BBC Sport afterwards, referring to Hogh-Christensen.
Ainslie was pleased with his start to the regatta after putting himself under pressure on the opening day in past Games, with a ninth and a disqualification (scored as 26th) in Athens and 10th and first in Beijing.
"Compared with my last Olympics it's nice to get two solid starts," he said. "It's obviously been a huge build-up and a lot of expectation so to actually just get out here and get racing, it's nice. It's a good start but there is a long way to go."
In the first Finn race, held on the course nearest to the "Nothe" ticketed spectator area beside Nothe Fort, Ainslie impressed with his downwind speed, making up ground on each downwind leg before losing places going back upwind.
He rounded the final mark in third and once again clawed his way back to overhaul Croatia's Ivan Kljakovic Gaspic, who finished third in both races.
"It's difficult with the wind being so unstable on the Nothe course but it is an amazing feeling with that crowd cheering you on. You can hear them, it made a big difference," said Ainslie.
The Briton got a poor start in the second race held out in the more exposed Weymouth Bay, but fought back to second at the first windward mark and remained behind Christensen to the finish.
"Jonas nailed the shifts up both those first beats and got away," said Ainslie. "He's one of the guys who can do that on his day. He really sailed well and hats off to him."
Hogh-Christensen said of Ainslie's pursuit of countryman Elvstrom: "In my opinion, no offence to Ben, I still think Paul is the greatest sailor of all time and he will be even if Ben breaks his record.
"Paul had an instrumental effect in sailing in general. If I get in a position where I can defend his honour that would be great but I'm trying to focus on my own sailing."
Percy and Simpson recovered from their poor opener to battle to the line neck and neck with Brazilian arch-rivals Robert Scheidt and Bruno Prada in the second Star race. Neither crew knew who had won until they came ashore.
"We missed a pretty important shift in the first race but hopefully during the week having good downwind speed and steady upwind will pay," said Percy.
"We're alright. Myself and Bart know how to regroup. It doesn't tend to snowball. We just keep fighting, like we showed in the second race."
Scheidt and Prada, who won silver in Beijing, lead from Ireland's Peter O'Leary and David Burrows, who had a second and a sixth.
All classes, barring the 49er and match-racing class, compete in an opening series of 10 races with the finishing position in each counting as the score.
The worst score is discarded and the top 10 sailors will advance to the final medal race in which points count for double.
The 49ers have 15 opening races and the match-racing is round-robin before the knockout stages.