London 2012: Team Bath welcomes international prospects
By Caroline Chapman
BBC Sport
Last updated on .From the section Olympics
It is the training home to World Champion hurdler Dai Greene and modern pentathlete Mhairi Spence, while skeleton bob's golden girl Amy Williams and Olympic 4x100m gold medallist Jason Gardener are among their famous alumni.
But Team Bath are not just helping Britain produce the stars of 2012 and beyond; they are also playing host to prospects from around the globe.
BBC Sport profiles the international athletes who have moved to the city's University to prepare for London 2012.
Sofyan El Gadi - Swimming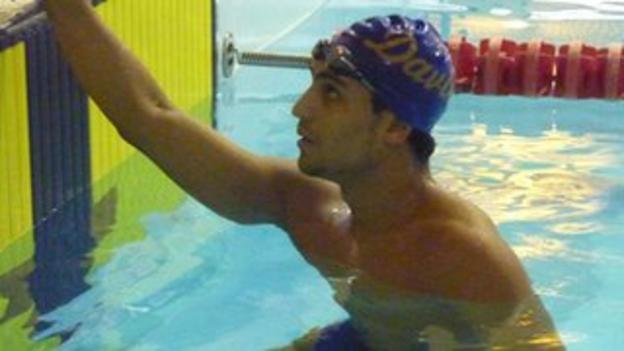 Age: 22
Country: Libya
Discipline: 100m butterfly
El Gadi was only 16 when he was included in the seven-strong Libya team at Beijing in 2008 - where he failed to progress past the heats in the 100m freestyle - and is one of five going to London.
He was coached by his father from an early age but a lack of opportunities in his homeland meant he moved to Canada to improve his chances of turning professional.
"There aren't a lot of clubs," he told BBC Points West. "And to be honest, there aren't even many pools.
"There's around six or seven clubs in the entire country. When I started, there were around 20 other swimmers but now we've got it up to at least 200 so there's progress."
El Gadi has been training at Bath for the last month in the hope of securing Libya's first ever Olympic medal, although he admits he is using this summer's competition as a stepping stone for the future.
"My chances aren't that high because I'm still young.
"To be at the top level you need more experience, so this for me is about getting that experience. 2016 is going to be my year."
Sled Dowabobo - Judo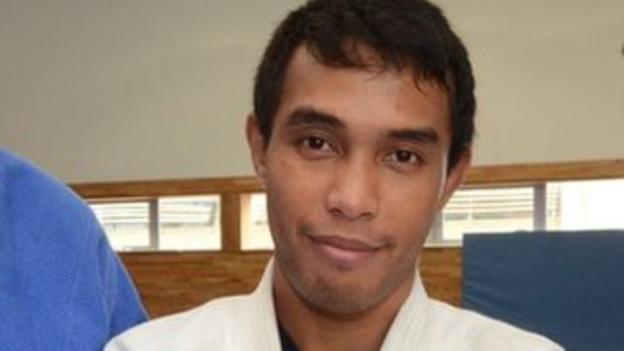 Age: 29
Country: Nauru
Discipline: Men's -73kg
Dowabobo is only the eighth competitor to represent Nauru at the Olympics since they first entered in 1996.
He comes from a family of powerlifters - all six of his brothers compete at various levels in their homeland - and is the first Olympian from the Pacific island nation to enter the games outside of the weightlifting category.
Dowabobo was advised by his coach to leave the island, which has a population of around 10,000, to train at Bath and he admits: "It feels good to be away from home.
"Everyone there knows each other, and what their business is. For me to be here, it's kind of huge."
He says his Olympic qualification was as simple as "going to the right tournaments" and "getting in a few fights" to increase his world ranking - which currently stands at 138.
And he is hoping to continue his development in London: "Right now, I'm just hoping to put up a good fight.
"I'm going to try and win one or two matches - I'll be satisfied with that."
Courtney Carl Williams - Athletics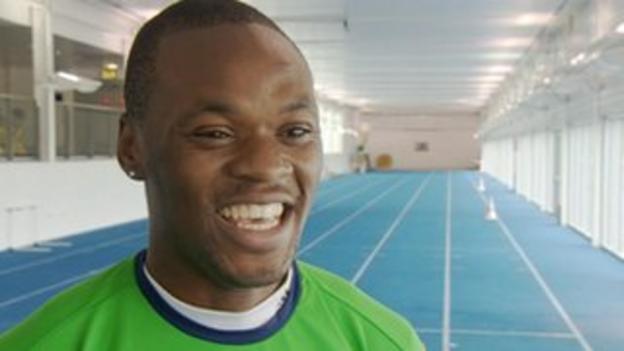 Age: 21
Country: St Vincent
Discipline: 100m and 200m
Williams is one of three athletes competing for St Vincent who, like other Caribbean islands, tend to produce track specialists.
He was handed a wildcard into the games after no competitors qualified in his event, but he has set his sights on achieving a personal best in the 100m, which is currently 10.79 seconds.
"As athletes, the best we can ask for is to do our best," said Williams.
"Every time we go on the track we want to run personal bests. If that gets me in to semi-finals then I'll be elated."
And should Olympic debutant Williams reach his semi-final target, he could end up racing alongside his racing heroes.
"Obviously I'd love to run with Usain Bolt but my favourite all-time sprinter is Asafa Powell. I would like to get to run with him to experience what that is like.
"I'm a second and a half behind them, but we're getting there.
"I don't want it to get in the way of what I'm supposed to do but of course I'm going to bask in the experience of running with the world's best."
He added: "I'd love to get an autograph and have a few words with them - maybe exchange some ideas. I want to know what they do to go the extra mile on the track."
Emmanuel Nartey - Judo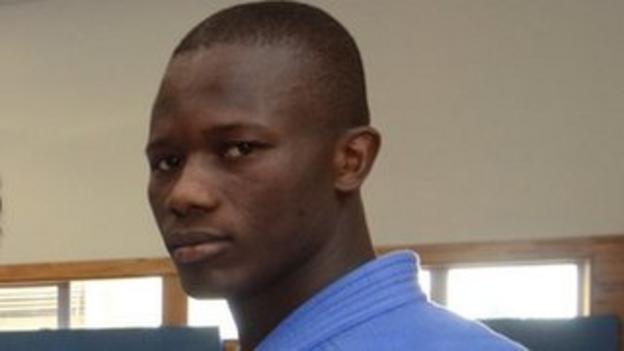 Age: 29
Country: Ghana
Discipline: Men's -73kg
A former BBC cleaner and current member of the British Army, Nartey is Ghana's first ever judo competitor and joins his eight compatriots at London.
A full-time trainer with Team Bath, he goes in to the Games having secured a bronze medal at the European Cup in Istanbul.
"It was my final preparation, and also a baseline to test my fitness and the training I've been doing for the last three or four months, so I was pleased to win a medal," he said.
"With this result I feel confident and ready for London."
Three of their four Olympic medals have come in boxing, but Nartey is hoping his performances will pave the way for more Ghanaian judo players to take to the mats.
"It will be a proud moment and a big achievement for me to compete at the Olympics," he said.
"It's not just about me, it's about opening doors for future generations coming through."