Olympics swimming: Fran Halsall and James Goddard progress

By Ollie Williams
BBC Sport at the Olympic Park
Last updated on .From the section Olympics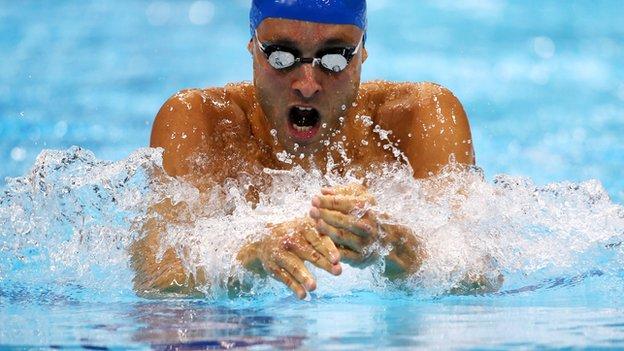 Fran Halsall and James Goddard both made it through to their semi-finals from Wednesday's Olympic swimming heats in the Aquatics Centre.
Halsall's 54.02 secs earned her the seventh-fastest 100m freestyle time while Amy Smith went through in 54.37.
Goddard swam a strong 1:58.56 to qualify for the men's 200m medley semi-finals and is joined by Joe Roebuck.
Jo Jackson brought GB's 4x200m women's freestyle team home in 7:54.31 to reach Wednesday evening's final.
The debate now is whether Rebecca Adlington will be brought into the relay team for the final.
Earlier reports suggested she would leave the relay alone to focus on Thursday's 800m freestyle heats - an event where she is expected to challenge for gold - and she took no part in Wednesday's relay heat, but the British team said a decision had yet to be made.
Elsewhere, GB trio Stacey Tadd, Marco Loughran and Chris Walker-Hebborn missed out in their events.
Tadd, 23, swam 2:27.18 to finish 18th in qualifying for the women's 200m breaststroke and miss out on a semi-final place.
In the men's 200m backstroke, Loughran's 1:58.72 and Walker-Hebborn's 1:59.00 left them outside the top 16 who qualify. Tyler Clary led a US one-two with a qualifying time of 1:56.24 to Ryan Lochte's 1:56.36.
Lochte doubled up by swimming the 200m medley heats alongside the backstroke, qualifying for both with ease.
"This double is going to be brutal, but I've done the training so I'm ready for it," the US star told BBC Sport.
Goddard has chosen to focus on the 200m medley over the 400m distance following his fourth-place finish in the shorter event at last year's World Championships.
"That made the decision quite easy," said the 29-year-old. "I thought this was my best shot to get a medal. This is going to be my last Olympics, that was the choice I made.
"I've not raced till day five, so it's been a long wait. It's good to get in and race, get that first swim out of the way."
Hungary's Laszlo Cseh qualified fastest in 1:57.20 with Lochte second in 1:58.03. Phelps swam 1:58.24 with Roebuck 13th-fastest in 2:00.04.
Australian gold-medal hope Cate Campbell pulled out of the women's 100m freestyle with an illness, while Sweden's Therese Alshammar - who has suffered a pinched nerve - also did not compete. China's Tang Yi was the fastest qualifier in 53.28.