Olympics sailing: Paul Goodison's gold hopes slipping away

By Rob Hodgetts
BBC Sport at Weymouth and Portland
Last updated on .From the section Olympics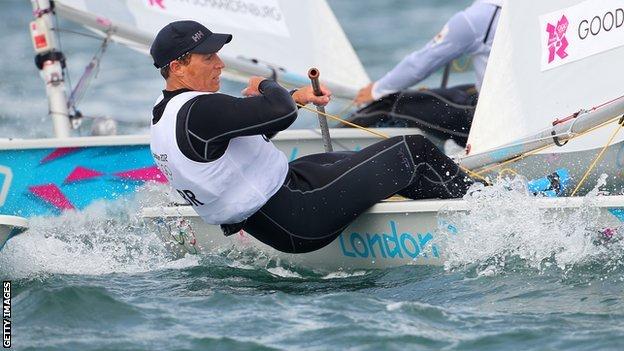 Paul Goodison defied back pain to keep the defence of his Olympic Laser title alive but admits his gold medal hopes are slipping away in Weymouth.
The Briton scored a fourth and a ninth to climb from 12th to sixth but is still well adrift of the top three.
"I'm not focusing on those guys at the minute, I've got my own personal battles to fight," said Goodison.
"The biggest is to get firing on all cylinders. Until that happens I'm not going to win."
Goodison hurt his back on Monday and was unable to bend over, let alone hike out of a Laser (lean over the edge of the boat) in 20-knot winds. After racing on Tuesday he again clutched his back and broke down in tears in front of reporters.
"The physios did another amazing job," he said after another breezy day in Weymouth.
"The pain had subsided quite a lot so rather than a sharp, shooting pain it was just an underlying pain so I could focus on decision making. Although physically I wasn't 100% and I was slow upwind, at least I could make decisions and attack downwind. I owed it to the guys who put me back together last night to give it my all.
"It was more of a case of trying to keep myself in the regatta. It could have easily have gone away today and while there is still that glimmer of light at the end of the tunnel we'll keep fighting."
Goodison will use Thursday's rest day in the Laser class for more treatment as he looks to edge closer to the leaders in the remaining four races before Monday's double points-scoring medal race.
The Rotherham-born Weymouth resident is 22 points off the third place of Croatia's Tonci Stipanovic, with Australian Tom Slingsby, the five-time Laser world champion, surprisingly slipping into second, one point behind Cyprus's Pavlos Kontides.
British windsurfer Nick Dempsey had what he described as a "better day at the office" after scoring a fifth and a first to climb into third place overall.
The 31-year-old, who won bronze in Athens but came fourth in Beijing, is still well adrift of leader Dorian van Rijsselberghe of the Netherlands, who followed his three straight opening wins with a third in race four.
"I'm definitely sailing fast, I just need to start turning it up a little bit," said Dempsey, who is married to two-time gold medallist Sarah Ayton. "We're in the harbour for the next six races and that's where I think I'll be most comfortable."
Dempsey said he will stick with his more conservative tactics compared to the "extreme" style of the effervescent Van Rijsselberghe.
"I'm still third, I'm not going to risk dropping out of the race," said Dempsey, who described sailing in front of the huge crowd on the ticketed spectator area on the cliffs off Weymouth as "amazing, like nothing we've ever experienced".
GB 49er sailors Stevie Morrison and Ben Rhodes climbed from 12th to fifth after fighting back from Tuesday's capsize with a fourth and a second in Portland Harbour. They trail pace-setting Australians Nathan Outteridge and Iain Jensen by 23 points but the bunch around them is tight.
"Our results were a lot better today, although I don't think we necessarily sailed any better than yesterday, but we didn't have that big mistake," said Morrison.
"We knew we were sailing well, it's just a case of continuing to do that. There's a long way to go. You've got to stay mentally tough. It isn't over yet."
Windsurfer Bryony Shaw, who won bronze in Beijing, had a fourth and a ninth to stay sixth, while team-mate Alison Young remained fourth in the Laser Radial class after a second and an 11th.
Lucy Macgregor's match-racing crew lost to New Zealand and Russia, and are tied for fifth in their opening round-robin series.